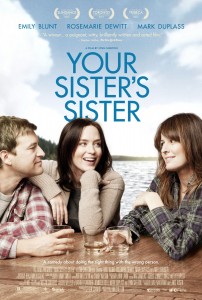 Director Lynn Shelton is doing some truly amazing things with a genre that many have felt has become stale. When any auteur decides to take on the 'Romance' genre, several piles of baggage come along with it- especially amongst a male film reviewer. Will it be sappy, predicable, and a waste of time? These are questions that seem to pop up with films that fit into said genre. Bad romantic comedies and dramas have become the norm and therefore those fears are far from unfounded. Shelton knows these trappings and has created a drama-comedy hybrid so smart that it has reinvigorated this paint by number movie formula. The film, "Your Sister's Sister" (R) may have a story you have seen several times before, but it's bones are made from a different animal altogether.
The basic, spoiler free plot follows Jack played by Actor/Director Mark Duplass (The League, Jeff Who Lives At Home) a thirty-something who is still in mourning over his recently deceased well liked brother. The sullen and troubled character is invited to a remote cabin by his best friend Iris played by Emily Blunt (The Devil Wears Prada, The Five-Year Engagement)- the former girlfriend of his brother- to finally get his head together. Enter, Iris's sister Hannah portrayed by Rosemarie DeWitt (Rachel Getting Married) and you have a character driven dialogue piece that perfectly fills all of its ninety one minute running time.
The secret to "Your Sister's Sister" lies in it's structure. In full disclosure, this film takes place in basically only one location. It is not a typical romantic flick which stuffs tons of set pieces into it to prevent the audience from getting bored. Most if not all of the action takes place in a cabin in the middle of the woods. Therefore each actor was tasked with creating the film's comfortable atmosphere through dialogue, and emoting through facial expression. Digging a little further, we discovered that Shelton did not have a true script for the movie and that Blunt, DeWitt, and Duplass were given scene outlines in order to move the story from A to Z, but had free range to improvise their way to reach each scene's resolution.
In doing so, each scene feels completely authentic and real. The audience will feel like they are the fourth person at the cabin taking part in conversations from funny banter to emotional fights. Some of the prime examples of this occur when the actors are simply sitting around the table eating various meals throughout the film. Because of Shelton's masterful eyes these seemingly mundane set pieces are electric and highly engaging. Several major plot points are exposed during these meals, revealing past sexual misadventures or witnessing a blowout fight, which shifts the plot on the drop of a dime. It's important to note that these innovative film devices would not work without masterful performances by it's actors.
Blunt, DeWitt, and Duplass produce some of the best onscreen performances this writer has seen all year. Duplass' range is outstanding. For the past two years I have been accustomed to watching him on 'The League' where he is usually sarcastic and very funny. But in "Your Sister's Sister," he instead explores his dramatic side to my overall delight. Blunt and DeWitt meanwhile, are extremely believable as sisters. Several scenes have them in bed having frank adult conversations, while at the same time appearing as wide eyed little girls. All of these performances and excellent direction have truly paid off. Sometimes it's important for a director to create a structure not seen previously in order to show us what we've been missing on the silver screen. "Your Sister's Sister" does this and then some making it a must see for all audiences, as this picture truly transcends tired labels.
- Jay Rubin
"Your Sister's Sister" is rated R, starring Emily Blunt,  Rosemarie DeWitt, and Mark Duplass, has a runtime of 91 minutes, and will be released in limited theaters on Friday, June 15th.
Related Articles
Share
About Author
(0) Readers Comments