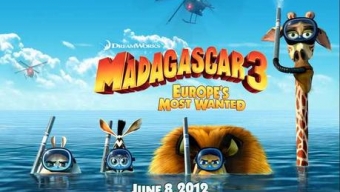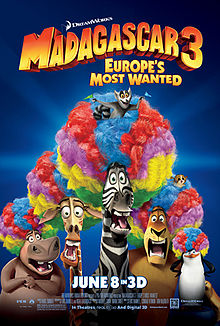 With the first two Madagascar films earning upwards of $180 million each, DreamWorks had no reason not to return to the very profitable well. Complimenting an already stacked voiceover cast with even more star power, Friday, June 8th marks the return of the bunch of animated misfits to the big screen- this time, given the 3D treatment- with "Madagascar 3: Europe's Most Wanted" (PG). The main characters voiced by Ben Stiller, Chris Rock, David Schwimmer, Jada Pinkett Smith, and Sacha Baron Cohen all return for this third go round, joining the likes of new additions Bryan Cranston, Martin Short, and Frances McDormand. With an A-list cast and a red hot franchise in tow, it was up to the writers to create an interesting enough premise to bring the film together- and they succeeded without question.
"Madagascar 3" finds Alex, Marty, Melman, and Gloria out in Europe, yearning to return back to New York City. In a failed effort to reunite with their penguin pals before their attempted jaunt back to the US, they attract the attention of Captain Chantel DuBois, a no nonsense Animal Control Official, hell bent on capturing the animals, and mounting Alex's lion head on her wall. As a last ditch effort to escape, the troupe pretends to be trained circus animals, joining the other group of animals they meet along the way, only to be exposed for their deceit, putting their once certain destiny of returning to the Big Apple in danger.
Of the cast, despite his meager showings at the box office to date, it is Chris Rock's 'Marty the Zebra' whose star shines brightest. His unmistakable voice and energy provide a much needed jolt into a notable cast rife with relatively unmemorable voiceover work. With his share of big screen bombs behind him, perhaps Rock's greatest attribute is his voice, which lends itself incredibly well here, just as it's distinctiveness has suited him as a pioneer on the stand up stage. Stiller and Schwimmer are casted capably enough in their roles, with Stiller's whininess and Schwimmer's anxieties written to suit each of them just fine. The rest of the cast manages to fill in sufficiently although none really sticks out performance-wise. Understandably, this is voiceover work, but still.
The film is likely to score big time box office dollars catering toward a younger audience, but it can also live on as a film that adults are certainly able to stomach. Several times, I found myself snickering throughout, just as excited as the seven year old next to me, and especially during comedic scenes written to go over her little head. Most films of this ilk offer up a nice feel good ending, and truth be told, this one is no different. In the third and unlikely to be the last installment of the Madagascar series of films, 'Europe's Most Wanted" is perhaps the series' finest. The 3-D, while unnecessary, works much better here than it did in "Men in Black: 3," effectively mixing the illustrations and vibrant colors with the effects that pop from the screen out to the audience. Young viewers will especially have a field day watching the Katy Perry "Firework" circus scene, as the adults in the crowd tap their feet and hum along accordingly. You might spend much of the film trying to figure out whose voice is who's aside from the main characters- but hey, for an entertaining film catered to a young audience, just be happy you were this engaged throughout.
"Madagascar 3: Europe's Most Wanted" is rated PG, starring Ben Stiller, David Schwimmer, Chris Rock, and Jada Pinkett Smith, has a runtime of 85 minutes, and is released in theaters everywhere on Friday, June 8th.
- Jane Van Arsdale
Related Articles
Share
About Author
(0) Readers Comments