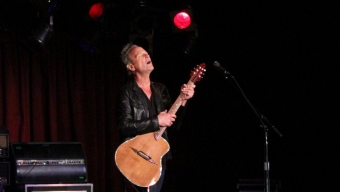 Lindsey Buckingham
B.B. Kings, New York, NY
June 5th, 2012
Concert Review: Lindsey Buckingham at B.B. Kings
Whenever you go see a member of a landmark band out on the road in a solo setting there exists certain expectations on both sides of the fence. For the singer-songwriter it's hope that the audience will support their current work apart from the entity which made them notable. On the flip side, some members of the audience anxiously wonder whether the talent will omit certain hits from the set that connected them to said artist in the first place. On Tuesday night, Fleetwood Mac's Lindsey Buckingham took to the stage of Manhattan's B.B. King's Blues Club for the second of two sold out nights and literally bull-dozed any of these expectations immediately. LocalBozo.com was front and center for a show that beautifully married his prolific work with Fleetwood Mac and his much beloved solo efforts.
At 9pm on the nose, Buckingham walked onto a bare bones stage which included a few amps, guitars, and a mic stand. The capacity crowd roared with excitement as Buckingham greeted them with an overly gracious bow and subsequent wave. And without wasting a moment he launched right into "Cast Away Dreams," an opener from his solo work that managed to be touching, while also making us all rock out like we were teenagers again. Almost immediately, it was easy to see how Buckingham compensates for not having a full backing band on stage with him. His progressive style has armed him with an innovative collection of foot pedals that allow him to loop his own guitar playing in order to round out any song. This allows Buckingham the ability to explore the space with jams that seriously moved the New York City faithful.
The wide breadth of Buckingham's solo career became more evident when he launched into "Not Too Late," which demanded the audience to sit and listen to every lick which could only be played on an acoustically. Buckingham howled each heartbreaking yet reaffirming lyric as he expertly finger plucked the guitar. As the song concluded, fellow audience members were moved into one of many standing ovations throughout the set.
Buckingham is first and foremost an entertainer and one who knows exactly what the audience craves. And after receiving tons of love with all the solo tracks played, he launched into some tremendous renditions of Fleetwood Mac classics. Right before he began playing the familiar chords of "Never Going Back Again" and "Big Love," addressed the band's rich history and current state, describing them as the "Big Machine" an allusion to Fleetwood Mac and the "Small Machine," a reference to his solo work. Both classic tunes made members of the crowd sing along and dance in the aisles. Although it would certainly have been incredible to see longtime stage partner Stevie Nicks harmonize with him, Buckingham's raw ability allowed him to own the stage with the depth of a full band standing beside him on the intimate stage.
The hour and a half set time blew right by. It was just that good. Buckingham had easily won us over with his solo work that sounded on par with the great tunes of the "Big Machine." But as a perfect cherry on top to a perfect evening of classic rock n' roll, Buckingham surprised many in attendance by bursting into the Fleetwood Mac super-hit, "Go Your Own Way." The song was an instant face melter for the audience. We sang it word for word, while looking on in awe to an artist who gave us everything we wanted and then some.
- Jay Rubin
Related Articles
Share
About Author
(8) Readers Comments