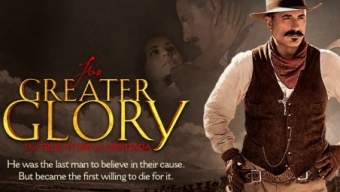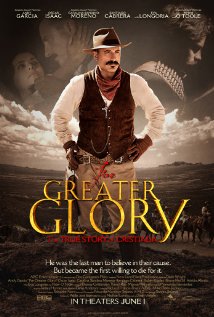 It is relatively safe to say that Andy Garcia has secured a spot as one of Hollywood's most talented actors, although he may not always receive the credit he deserves. On Friday, June 1st, Garcia makes his return to the big screen with the release of "For Greater Glory," a narrative of the Cristeros War, which took place in the late 1920's. This civil war concluded with citizens rebelling against the Mexican government's attempt to secularize the country and prohibit the practice of Catholicism by any means necessary. Garcia joins a solid collection of supporting actors, namely Eva Longoria, Oscar Isaac, Bruce Greenwood and Peter O'Toole.
Taking place in Mexico, the film follows the lives of the various Mexicans affected by this war. While there are several talented actors and actresses peppered throughout, the film's primary focus is clearly on Garcia's 'Enrique Gorostieta Velarde' character. Velarde is a three time decorated war hero who is propositioned by the Cristeros to be their leader with hopes that he will lead them to victory. Initially reluctant to lead the Cristeros, he realizes the horrific injustices associated with their religious persecution. And with that in mind, the General takes it upon himself to makeover this group of rebel citizens and turn them into a well oiled, highly trained army.
The harsh realities of this battle will hit home for viewers as a result of the brutal portrayal of violence against innocent bishops, priests, and innocent citizens who remain committed to their faith. Churches were destroyed and burned to the ground, with many priests hanged, burned alive, and executed in their own Parishes. The Mexican government was very clear in their threats and in practice that any family who were to harbor or protect any religious figure would be subject to deportation and in many cases execution. However, if viewers are able to look past the relentless bloodshed present both during and preceding the war, they will be touched by the camaraderie amongst the Mexican people after Velarde begins to lead them, in their desire to stay true to their faith.
Overall, this is a potent film with a compelling and passionate cast. There is no way of knowing whether or not the events portrayed in this film are entirely accurate or embellished but it sheds light on a period of Mexican history that many people are undoubtedly unaware of. The primary challenge this movie faces from its audience is the risk of it being misinterpreted as religious propaganda. Nevertheless, if viewers are able to accept the film for what it is, moviegoers will leave the theater emotionally crestfallen, but satisfied by a fine piece of cinema, delivered by one of Hollywood's most talented and underappreciated thespians.
"For Greater Glory" is rated R, starring Andy Garcia, has a runtime of 123 minutes, and is released in theaters everywhere on Friday, June 1st.
- Eugene Jerome
Related Articles
Share
About Author
(0) Readers Comments