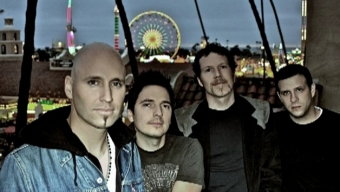 You certainly remember Vertical Horizon's first hit single "Everything You Want" as one of the most frequently played (and sung in the shower) rock songs at the spawn of the decade. Since then, the band has released two subsequent albums (2003's "Go" and 2009's "Burning the Days"), re-tooled their lineup, and is currently working on their next full length release, slated tentatively for 2013. This week, the band makes their return to the greater New York City area, with two affordable shows for fans looking for a trip down memory lane or for those of us that just want to enjoy some feel good music as the City weather heats up.
Vertical Horizon formed in the early 1990's, believe it or not- a byproduct of Georgetown University in the Washington D.C. area. Today, only frontman Matt Scannell remains, teaming up with some long time friends and musicians to round out the revamped band. Tuesday, the band stops in Huntington, New York at The Paramount before making a Wednesday stop in New York City proper at the South Street Seaport's Beekman Beer Garden Beach Club- an outdoor venue covered with a sandy beach, ping pong tables, and illuminated couches for the perfect summer time happy hour experience. But once 8pm hits, the band will take center stage. And with tickets at just $20, the show certainly seems like a can't miss- considering temperatures are expected to approach ninety degrees.
LocalBozo.com was fortunate to sit down with Vertical Horizon frontman Matt Scannell for an exclusive interview. For nearly twenty minutes, listen in as we discuss the band's new lineup, a rumored new album and recording sessions, the band's novel approach to creating music through a PledgeMusic fan donation campaign, the lasting legacy of Vertical Horizon, and so much more. Join LocalBozo.com tomorrow night at the closest thing Manhattan has to a beach for a fun rock concert. And for more information on band info and tour dates, make sure to check out verticalhorizon.com.
Editor's note: And yes, revisionist history should have corrected the album title to "Everything You Want" in our audio interview, but even LocalBozo.com ain't perfect!
- Jane Van Arsdale
Related Articles
Share
About Author
(2) Readers Comments