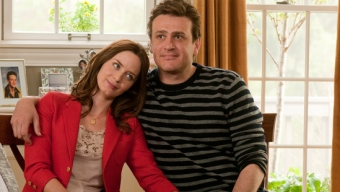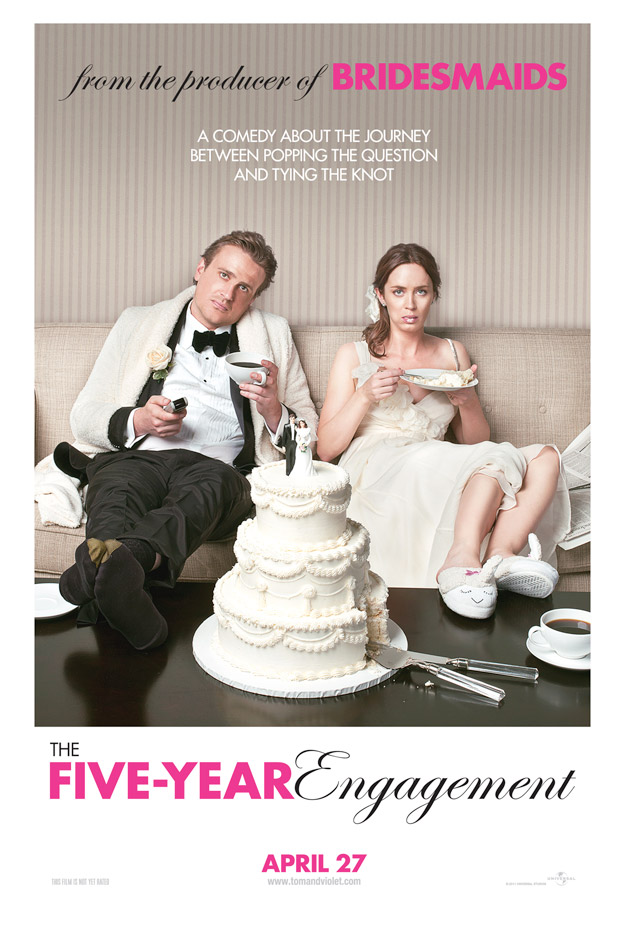 In just a few short years, actor Jason Segel has managed to successfully transition from comedic supporting player to Hollywood leading man and accordingly, there's been no dearth of feature films since said transition upon which his face lends itself as the main attraction. With the underwhelming "Jeff, Who Lives At Home" already (albeit in limited) released in 2012, this Friday marks Segel's return to a more traditional style which suits him in "The Five Year Engagement" (R).
The film follows the travels of Tom Solomon (Segel) and Violent Barnes (Emily Blunt), beginning from an awkward proposal right at the couple's one year mark to the ebbs and flows of couplehood- familial predicaments, career adjustments, temptation, and all the while, the stress of planning a wedding. While the couple seems ideally suited together, their motives begin to stray as their careers pull them in differing directions. And when Tom's sacrifice for Violet's career brings him from beautiful San Francisco to the blustery winters of Ann Arbor, Michigan for longer than the couple had planned, he begins to resent her and can no longer find happiness in simply floundering by her side, as his fiancé pursues her own passions.
That's not to say that the film isn't funny- it is- but there are plenty of situations inherent in "The Five Year Engagement" that manage to hit close to home for anyone who has ever dated someone long enough. While Blunt's English accent takes a bit getting used to as the counterpart to the All-American boy, Segel, the pair play quite believably off of each other, and the intimate moments seem natural and endearing. Segel's unwavering fearlessness in his humor is perhaps what makes him so likable to both genders- he's just raunchy enough to get males in his corner, but also consistently vulnerable and teetering on a less masculine version of the boyfriend/husband stereotype that women root for him just as habitually. If anything, Segel's character here plays a little bit too closely to his whiny, broken down loser in "Forgetting Sarah Marshall" and to his 'Marshall Erikson' character on "How I Met Your Mother." Like those roles, here he remains the antithesis for how 'real men' are 'supposed to act.' But Segel's film career certainly appears to be flourishing, and if it ain't broke, there's no need for fixing.
While the leads certainly do a capable job of garnering audience support that they'll eventually wind up together, this film is carried comedically by an outstanding supporting cast- the highlight of which is 'Parks and Recreations" Chris Pratt, a perfectly casted foible as Tom's buffoon of a brother Alex, who delivers punch line after punch line of belly laughs which pace the film nicely. 'Mad Men/Community' vixen Alison Brie's turn as Violet's sister Suzie also holds up her end with the trio exceptionally well. Blunt and Brie's extended suggestive conversation in front of Suzie's two young children, hidden beneath their stellar imitations of Sesame Street's Cookie Monster and Elmo, is perhaps the film's (suprisingly) funniest moment. Other notable appearances from Mindy Kaling, comedians Kevin Hart, Brian Posehn, and SNL alum Chris Parnell (a hilarious stay at home father, who knits his own massive and intricate sweaters), highlight just a few of the film's familiar faces.
The film isn't entirely a comedy because it's not always funny, nor is it entirely romantic either. In fact, I'm hesitant to even dismiss it by labeling it as a romantic comedy altogether. "The Five Year Engagement" is instead a partially sappy relationship movie that manages to actually produce some substance of male and female authenticity, with just enough ridiculous antics and entertaining characters to keep you laughing at points during the full two hours. If you're expecting 'Sarah Marshall,' you might be disappointed. But temper your expectations a bit, and they might just get exceeded.
"The Five Year Engagement" is rated R, starring Jason Segel and Emily Blunt, has a runtime of 124 minutes, and is released in theaters everywhere Friday, April 27th.
- Jane Van Arsdale
Related Articles
Share
About Author
(0) Readers Comments