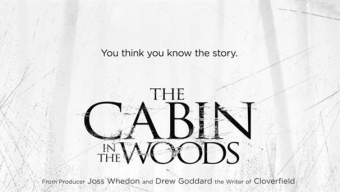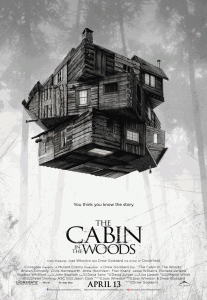 For over a decade horror fans and lovers of all things cinema bizarre have been treated with a great deal of disrespect. As a firm supporter of all things shocking, countless disappointing releases have been earmarked with a PG-13 rating, relegating them to horror movie dribble. These films were released to capitalize on whatever remained of an already waning audience and teenagers looking for a pseudo-scandaless night out. While the past few years have unearthed a dearth of legitimate horror movies, not every horror flick has been dreck. This Friday a film will be unleashed that far and away reaffirms a love for the genre, based solely upon the way its creators can break apart from convention without making the audience feel stupid. "The Cabin in the Woods" (R) releases on Friday, April 13th and if you haven't heard about it yet, you're going to be even more impressed when you plunk down your hard earned cash for a screening.
"Cabin" comes from the minds of mega-producer Joss Whedon (Buffy The Vampire Slayer, Angel, Firefly) and director Drew Goddard (Cloverfield), two innovative minds with regard to the moving image. Whedon worked for years to create an authentic horror film to be distributed to a wide audience and after the original studio went belly up a few years ago, this film sat on the shelf collecting dust, as well as a mythos. And now with the release a few short days away Whedon himself has gone so far as to make a video warning viewers not to spoil any of this film. While we can assure you the film is out of control and is filled with a ton of surprises, this reviewer will not spoil any of them.
So how do you review a film where anything you say about it will ruin the experience for anyone who tries to watch it? Let's start slowly. The film stars a central cast of typical horror archetypes- including Chris Hemsworth, now of 'Thor' and 'Avengers' fame. We've come to know these types of characters as the slut, the athlete, the stoner, and of course, the virgin. The story revolves around a weekend getaway which finds the characters headed into the proverbial 'cabin in the woods' for the usual drinking, drugs, and sex. The setup for the plot is both genius and funny, breaking the conventions of all our favorite 1980′s era slasher films. The film quickly strays from anything that would dismiss it as simply a 'Scary Movie' type parody. Not once during its 95 minute run time, does it treat the audience like sheep.
Die hard horror nerds will have a field day with this movie. From start to finish, gore buffs will witness expertly placed horror call-backs from some of their favorite films. Admittedly it's a bit passe to claim that a movie is a 'rollercoaster," but with "The Cabin in the Woods," you're going to want to exit the ride and get back in line for more loop-de-loops. Along with a plethora of scares and surprises packed into the film 'Cabin' packs in plenty of belly laughs, a credit to an well written screenplay that multitasks like a madman and succeeds swimmingly on both sides of the genre spectrum.
Once "Cabin" has been released and the surprises therein have been absorbed by viewers, it's well within reason that this film may take on a life of it's own. Much like "The Rocky Horror Picture Show" did in the '70s and '80s, "The Cabin in the Woods" is rife for a long run as a midnight movie screening. Be it in a theater or at home with some friends, it's a perfect flick to crack a few cold ones open for. And in our cynical, cookie-cutter lives we need a movie like this to show us how much fun we can truly have sitting in the dark for a few hours.
"The Cabin in the Woods" is rated R, starring Chris Hemsworth, Richard Jenkins, and Bradley Whitford has a runtime of 95 minutes, and is released in theaters everywhere Friday, April 13th.
- Jay Rubin
Related Articles
Share
About Author
(0) Readers Comments