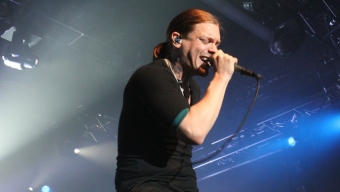 Shinedown
Best Buy Theater, New York, NY
April 20th, 2012
Concert Review: Shinedown at Best Buy Theater
Few bands can attract a loyal fan base who represent immensely different genres of rock music. The Sunshine State's own Shinedown can stake this claim and wear it proud. If you are a straight ahead fan of hard rock, metal, or even the catchy ballad, the talented Shinedown has something for all. Led by the charismatic Brent Smith, these guys have been a wrecking ball of success for the better part of the past decade, dominating te rock charts and relentlessly touring all over the world. But on Friday, it was New York City's turn to see the popular four piece live at the Best Buy Theater. This sold out show was an all out lesson in how to rock right.
In the case of many live concerts, a band will play a few songs that everyone knows but also a lot of filler leaving a somewhat uneven experience. Shinedown however, destroys this tired convention and performed a loaded set pleasing all while leaving us hungry for more head pounding action. For over an hour and a half, the boys from Jacksonville played a set featuring a solid cross-section of tunes from the four albums that made helped them gain notoriety, throwing in some nuggets from their latest album 'Amaryllis' released mere weeks ago. As consummate showmen, the band started the show off on an extremely high note busting out 'Sound of Madness' with extreme fervor. Smith stalked the front of the stage and stood on a riser made just for him, where he delivered his exceptional live vocals. There he towered over the capacity crowd projecting gallons of energy, like he was a heaping cup of human coffee.
The floor at Best Buy was packed wall to wall with devoted and hungry Shinedown fans. This was most definitely a sold out show in every sense of the word. As the powerhouse set rolled on the crowd at the front of the house were wired to rock. Smith and the rest of the Shinedown boys felt this energy and re-circulated it ten-fold. But for Smith it wasn't enough for the fans in the front to be the only ones rocking out.
If you have never been to Best Buy theater before you have to know that it's a huge room that happens to serve up some of the best sound of any Manhattan rock venue. In the back exists rows of seats for fans to sit and enjoy the show. Smith wasn't having this and during the middle of the set he literally made everyone in the back stand up. He stated that everyone in the house needed to share this experience in rocking out. He even went as far as to have everyone shake hands and high five. We were testifying at a Rock 'N Roll Church! It was also a perfect introduction to new song, 'Unity' ad a very cool sight seeing everyone sharing in the same groove in unison.
The bullet train of a set rolled on leaving little time for chatting and more time for rocking. And after a few more new tracks, Shinedown closed out the set with '.45.' The audience hung on each verse and even threw up lighters making this feel like an old school rock show. After leaving the stage to a raucous applause, the boys took a much deserved break before leading into one of the most memorable encores we've seen so far this year. The lights hit once again, and the huge LED screens introduced the empowering song, 'Bully,' which received perhaps the best sing along of the night, and proved the band and the crowd were far from tired.
After the last lick of 'Bully' was played, Smith took to the mic to speak candidly about the power of rock music, and how it has been with him throughout his life guiding him through bad and good times. It should be of no surprise to anyone that this led to Shinedown's incredible cover of Lynyrd Skynyrd's 'Simple Man.' As the first chords were played a chill filled the room, and everyone collectively stared and took it all in. It was hard to hear anyone's voice besides Smith's. In the end, this was a true lesson in how to rock a crowd, from a band who continues to deliver with every new album and live performance.
- Jay Rubin
 Shinedown – Live at Best Buy Theater
New York, NY
April 20th, 2012
1. Sound of Madness
2. Diamond Eyes (Boom-Lay Boom-Lay Boom)
3. Enemies
4. If You Only Knew
5. Save Me
6. Devour
7. Nowhere Kids
8. The Crow & The Butterfly
9. Unity
10.Amaryllis
11. Adrenaline
12. .45
Encore:
Bully
Simple Man
(Lynyrd Skynyrd cover)
Second Chance
Fly from the Inside
Related Articles
Share
About Author
(0) Readers Comments