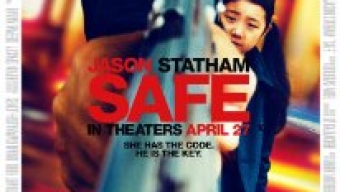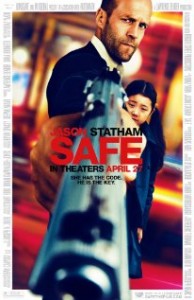 To say writer and director Boaz Yakin has been influenced by the action films of the 1970s and 1980s is a gross understatement. In fact it appears the New York City born auteur has been all but possessed by the medium. Yakin has been in the film business for nearly thirty years as a working screenwriter, penning such cult classics as 1989′s 'The Punisher' starring Dolph Lundgren. In 2012, it has appears the stars have aligned for Yakin in the form of his most auspicious work to date. The film is "Safe." And if you have ever loved gritty, violent, and funny action flicks in the past you must run, not walk to the theater this weekend to view this gem.
The story of 'Safe' may appear to be all too similar to movies you've seen in the past. But that should only be seen as a positive. Newcomer Catherine Chan stars as  Mei, a young gifted girl whose memory holds a priceless numerical code. The information she holds causes her to be chased by the Chinatown Triads, the Russian mob, and even a corrupt sect of the NYPD. Luckily, Mei has a guardian angel of sorts- an ex-cage fighter with the same enemies as the little girl who steps in to protect her by any means necessary. Luke Wright, our ex-cage fighter with a checked past is played by modern day action superstar Jason Statham. Statham's career up to this point has been nothing short of extraordinary, having acted in some of the highest grossing, pulse pounding films of the past decade.
At the screening we attended, Yakin took to the mic before the film started. He went on to describe his love for New York City and the action genre as a whole. Yet, the highlight of his speech came when he called Statham, "the Charles Bronson of this generation." Jason Statham is action's saving grace for the twenty-first century. In 'Safe' audiences will witness an unapologetic, highly violent, and in your face tale of revenge for the better part of two hours.
'Safe' is set in an alternative, post-911 New York City. Director Yakin has taken certain aspects of our present day post tragedy city, but bases most of the films reality around the NYC of old. Essentially, the characters both bad or good live in a gritty and corrupt cityscape. Throwback villains of the past such as the 'Russians' and the Asian Triads chew the screen constantly throughout the picture. And in a surprise turn, these bad guys are pitted against a questionable band of NYPD officers. This group of rogue cops are led by the super shady Detective Wolf played by character actor Robert John Burke (Thinner, Law & Order: SVU). With a supporting cast filled with over the top baddies, where you can't even trust the cops you need a hero. And dammit, does Jason Statham fill those shoes perfectly.
From the bloody beginning to brutal climax Statham is our man to root for. As Wright, Statham plays a one man police force on the side of good. His goal and overall motive is to protect the young girl without getting both their heads blown off. Because of these factors, Statham dominates each hardcore fighting and dialogue scene with a precision so clear and pure he rivals many of his predecessors in the genre. And like the Stallones and Schwarzeneggers who have come before him, Statham is gifted with delivering some of the greatest catch phrases before he plugs a foe. Never before has a series of puns been this satisfying. Be on the lookout for a scene towards the end of the film at a Russian restaurant. Trust me, you will be talking about it with buddies for weeks.
In the end, 'Safe' is everything fans of action and Grindhouse cinema have been missing for decades. You're pining for them can finally cease, because director Boaz Yakin and his hero Jason Statham have hatched a piece of celluloid so juicy that it reaffirms a genre we thought had all but disappeared in the US. China, and Japan must now look to America as a barometer to see what audiences crave. And dare I say it, we are in very 'Safe' hands.
"Safe" is rated R, starring Jason Statham and Catherine Chan, has a runtime of 94 minutes, and is released in theaters everywhere Friday, April 27th.
- Jay Rubin
Related Articles
Share
About Author
(0) Readers Comments