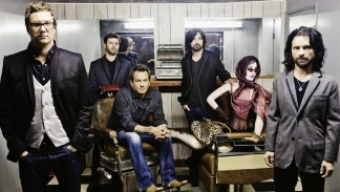 It was the summer of 1993 when the release of their self-titled debut album exploded on the rock music scene. The grungy, new band called Candlebox would go on to sell more than 4 million albums and spawning the hit singles "You," "Far Behind," and "Cover Me" from their initial release. With three additional full length album releases since then and an extended hiatus which put the band's immediate future in question, Candlebox has officially returned with 2012's "Love Stories and Other Musings," officially released Tuesday, April 3rd and a full headlining run of dates to boot.
The new album in many ways is not much of a departure aside from a band that has truly grown up, having tasted the fruits of success so early on in their careers. And although their sophomore effort "Lucy" was well received in the fall of 1995, Candlebox has since failed to be able to recreate the same commercial appeal that their first album so thoroughly enjoyed. With the music industry so drastically changed some two decades later and a business model geared toward live performances rather than album sales, Candlebox is banking on their latest release and lead single "Believe In It" to catapult their renaissance back into the ears of rock fans everywhere.
With a headlining tour currently slated to run through the middle of May, Candlebox will be stopping locally at New York City's Gramercy Theatre on Wednesday, May 2nd with surrounding dates in Philadelphia, Hartford, and Asbury Park as well. LocalBozo.com was fortunate enough to grab a few minutes with Candlebox lead guitarist Peter Klett. Listen in as we discuss the band's reformation and latest release, the biggest challenge of getting noticed in a changing music industry, the positivity behind the album's first single, and some of his memories of performing in New York City. For tour dates and information about all things Candlebox, check out candleboxrocks.com. And you can join LocalBozo.com on May 2nd at the Gramercy as Candlebox brings the ROCK back to NYC!
- Jane Van Arsdale
Related Articles
Share
About Author
(0) Readers Comments