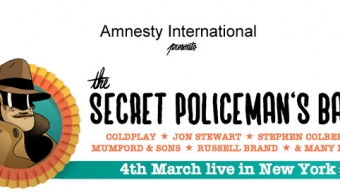 Looking for last minute, off-the-cuff weekend plans? LocalBozo.com has got you covered. It's not too late to figure it all out. For a glimpse of upcoming events that we'll be covering, check out the calendar in our side bar to your right. Otherwise, here are a few highlights to check out in and around Manhattan this weekend!
Arts & Culture
Friday, March 2nd – Affirmation Arts, in association with The Andy Warhol Museum, is bringing Pop art back to NYC with Warhol: Confections & Confessions, an exhibition of 53 unique prints.These rare photographs have never been seen outside of The Andy Warhol Museum in Pittsburgh and eight from the archives have never been previously exhibited. Visitors will see a whole lot more than just the well-known soup can! (Affirmation Arts)
Sports
Sunday, March 4th- It's Hockey night in America as the New York Rangers take on the Boston Bruins. Lets keep the New York winning tradition going, by sending these bean town boys home with a big loss! Tickets are still onsale, but you better snatch them up quick because the boys in blue have been tearing it up all season.  (New York Rangers)
Music & Entertainment
Friday, March 2nd- Movie release day. Quiet night tonight? Check out these releases coming out today. Danny Devito joins the ranks of amazing comedic talents appearing in Dr. Seuss' films. The time around, 'The Lorax' (PG) receives a big screen adaptation. Hey, it's from the creators of Despicable Me so it must be good. And switching gears completely, 'Project X' (R) promises to be the party movie to end all party movies. This found footage style flick utilizes the current social media trends surround a party put on by three guys trying to make a name for themselves.
Sunday, March 4th – To celebrate Amnesty International's 50th anniversary, Jon Stewart and Stephen Colbert take over Radio City Music Hall as headliners of the legendary concert known as The Secret Policeman's Ball. This overloaded three-hour event will feature a mega-watt roster of comedy and music superstars from Russell Brand to Coldplay and Mumford & Sons. But if you can't score some last minute tickets, fear not the entire show will be broadcast live on EpixHD! (Secret Policeman's Ball)
Nightlife
Friday, March 2nd - New York's premiere nightclub Pacha plans to kick the weekend off right with the award winner DJ duo, Gabriel & Dresden. The DJ pair have spun at some of the worlds hottest clubs, while battling their demons which caused them to break up. Fear not, they are back and ready to dominate the wheels of steel all night long. Just remember to line up early for reduced admission, and don't forget no smiling. Pacha! (Pacha NYC)
Other
Friday, March 2nd – Drink culture and Mixology is extremely popular citywide. Tonight you can get a taste of this spirited culture by attending the launch party for Hella Bitter. Hella Bitter is a Brooklyn based Bitters start-up, who buzz is building steadily because of their local ingredient and style. Admission is $10 which includes Hella Bitter cocktails and samples. And of course the party is in Brooklyn. Where else? (Hella Bitter)
Sunday, March 4th – Jimmy Carbone of the famed Jimmy's No. 43 is at it again! The curator of some of the best in food events in NYC presents the, Second Annual Duck-off. The Duck-off is a competition for professional and amateur chefs alike to create innovate duck dishes, using regionally produced birds and seasonal ingredients in charcuterie and duck-dominated first and second courses. Proceeds with benefit Food Systems Network NYC. (Jimmy's No. 43)
And as Always, Droid users- make sure to Download the official LocalBozo.com App for FREE from the Android Market! Get all the information we can fit onto your smart phone, NOW!
Related Articles
Share
About Author
(0) Readers Comments