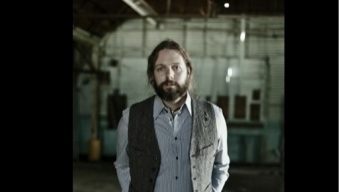 With the release of "Through a Crooked Sun," his second solo album, back in October, guitarist Rich Robinson has put his tenure with The Black Crowes on hold. At least for now. The album features a more mature version of the younger Robinson, effectively meshing the same infectiously bluesy southern rock that put the Crowes on the map with a hint of his own brand of melodic folk. 'Crooked Sun' features a mix of slow, introspective ballad-y types, surrounding a few up-tempo, throwback rock tunes, sure to please most Crowes fans.
At this point in Robinson's career, the axe man shows no signs of slowing down. When he isn't touring with The Black Crowes, he is focused on his celebrated solo work. His raw talent, drive, and creativity keep him touring non-stop while picking up new rock fans along the way. Tuesday night, Robinson joined a slew of artists like Art Garfunkel, Marianne Faithfull, and Jackson Browne at Carnegie Hall for "Hot Rocks: The Music of the Rolling Stones- 1961-1971," performing "Play With Fire" in front of a sold out crowd. If you missed Tuesday night's show, fear not. Rich Robinson won't be gone for long.
Monday, March 19th marks the largely underrated virtuoso's return to the New York City area, as Rich Robinson headlines a solo show with his touring band at the famed Bowery Ballroom. With tickets starting at just $17, you'd be hard pressed to find a more talented musician performing at as intimate a venue for this price. Earlier this week, LocalBozo.com was fortunate enough to sit down with Rich Robinson for a candid interview. Listen in as we discuss the differences in recording with The Black Crowes and recording a solo album, if his approach to songwriting has changed, recollections of playing at The Beacon Theatre right after 9/11, what it's like to play in New York City, and his plans for the rest of 2012. Make sure to pick up tickets to the Bowery show today and meet LocalBozo.com on the 19th at the rock show.
- Jane Van Arsdale & Jay Rubin
Related Articles
Share
About Author
(0) Readers Comments