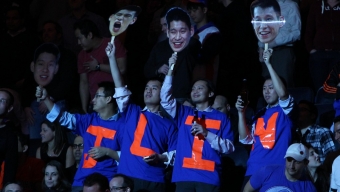 Looking for last minute, off-the-cuff weekend plans? LocalBozo.com has got you covered. It's not too late to figure it all out. For a glimpse of upcoming events that we'll be covering, check out the calendar in our side bar to your right. Otherwise, here are a few highlights to check out in and around Manhattan this weekend!
Arts & Culture
Saturday, February 18th – The artist mecca that is Williamsburg will be throwing an interactive multimedia event for models, photographers, make up artists and artistic people to connect with other creative souls, play and get inspired. The purpose of this event is to promote art that shows technical excellence and highlights our humanity. This event is an opportunity to support artists whose work meets those goals. (DenartNY)
Sports
Friday, February 17th – Sunday, February 20th- If you ever wanted to catch a glimpse of Linsanity, this is the weekend to do it. The Knickerbockers have three home games in four days, and a decent shot at winning each of them. Tonight, The New Orleans Hornets come to the Garden. (Knicks-Hornets Tickets)Sunday, the Dallas Mavericks come to town (Knicks-Mavericks Tickets) and finally, on Monday, the New Jersey Nets cross the pond for a matchup at MSG. (Knicks-Nets Tickets) Can Jeremy Lin save New York Tebow-style?
Music & Entertainment
Friday, February 17th- Movie release day. Quiet night tonight? Check out these releases coming out today. Director McG is back with Reese Witherspoon caught in a man catfight between two CIA operatives Tom Hardy and Chris Pine in "This Means War" (PG-13). And Chelsea Handler is in it, which must do something for someone. Also, Nick Cage is back! "Ghost Rider: Sprit of Vengeance" (PG-13) is in 3D and has all of the elements of a classic Nick Cage Film. Number 1, it exists. Don't blame us if you hate both.
Friday, February 17th – Saturday, February 18th – It's a turn back the clock weekend in New York City musically. First, tonight Irving Plaza hosts rock band Tesla for the 'Twisted Wires Acoustic Tour' with support by Built By Stereo. Tickets start at just $44.50. (Tesla Acoustic) Also, tonight and tomorrow- you can catch The Queen of Soul, Aretha Franklin at the historic Radio City Music Hall in two area performances, both of which start at 8pm. (Aretha Franklin Tickets). Tomorrow night, Frampton comes alive! The Beacon Theater hosts 'An Evening With Peter Frampton'- in the 35th Anniversary Tour. Orchestra seats start at just $49 bucks! (Peter Frampton Tickets)
Saturday, February 18th- Catch two of comedy's finest. Howard Stern Show alumni Artie Lange returns to the stage at Caroline's all weekend long. Check out one of comedy's funniest pure comedians as he reflects on hookers, drugs, and the Mets of course. (Artie Lange Tickets) Also, Comedy Central darling Demetri Martin is holding a taping for his tv special on the 'Telling Jokes in Cold Places Tour' at NYU's Skirball Center for the Performing Arts right in the west village. Hey, at least you might be on tv. (Demetri Martin Tickets)
Nightlife
Friday, February 17th – Who says Brooklyn can't dance? It's Crooked Disco; a smoke machine, laser, blow out at The Cove. DJ's Morsy and Kester will be on hand spinning hip hop, dance, and a little bit of everything else! Tonight they will be shooting a video so be sure to get decked out, son. (Crooked Disco)
Other
Sunday, February 19th- Head to the East Village to our pal Jimmy's No.43′s tremendous bar for a "N'Orleans Style Gumbo Cook-Off." $20 at the door lets you taste different amateur and professional chefs prepping some delicious creole style gumbo dishes. The event is serving as a benefit for "Chefs for the Marcellus," which focuses on the protection of our farms. And there's going to be a bunch of great wines and beers available for pairing and purchase. (Gumbo Cook-Off)
Sunday, February 19th – Calling all kids, and the kid at heart. The circus has returned to NYC! Ringling Brothers is back with their annual 'Kids Week' celebration with special performances at the Intrepid Sea, Air and Space Museum. Performers of all walks of circus life will dazzle audiences with their daring and unique routines that also teach children about scientific principles including gravity, balance and momentum. Kids can also enjoy the Circus Zone, where they can learn to juggle and spin plates all day long! (Intrepid Museum)
And as Always, Droid users- make sure to Download the official LocalBozo.com App for FREE from the Android Market! Get all the information we can fit onto your smart phone, NOW!
Related Articles
Share
About Author
(0) Readers Comments