Blog: Wanderlust Screening and Q&A
."\n"
The theme of escaping the perils and complications of the ordinary everyday is not new to cinema. Several writers and directors have explored this idea with varying results. But in the end it takes a fresh perspective from a creative mind to reinvent a tired premise that has been collecting dust over time. Enter director David Wain (Wet Hot American Summer, Role Models) and co-writer/actor Ken Marino (Children's Hospital, The Ten, Diggers), two of the minds behind the highly popular cult comedy troupe, The State. Add in friend and frequent collaborator Paul Rudd (Anchorman, The 40 Year Old Virgin), the always enjoyable Jennifer Aniston (Along Came Polly, Friends), and finish off with a powerful and hilarious ensemble cast and you have "Wanderlust" (R).
Rudd and Aniston play George and Linda, a modern day, characteristically fast paced couple who have just closed on a diminutive apartment that they can barely afford in New York City. And after a few unfortunate employment situations arise, they are forced to quickly eschew their routine city lives and head south to greener pastures in Georgia, home to George's not-so-modest, jerk of a brother. Upon arriving at a bed and breakfast en route to his brother's house, the couple hits a crossroads of absurd yet funny proportion, stumbling into a commune filled with a cornucopia of 'out there' personalities trying to bring them into the fold.
"Wanderlust" works on different levels, which any other director and writing team would likely botch. The film invigorates a hackneyed fish out of water premise, and packs the discourse between characters with Wain's familiar blend of absurd and surreal comedy that has become his signature. The characters are infinitely likeable, regardless of the implausible circumstances set before them and their subsequently questionable resulting motives. Under the watchful eye of Wain and Marino, the audience manages to develop an even handed experience- between that of a typical Jennifer Aniston romantic comedy and Wain's classically bizarre dialogue that will have you recalling scenes and repeating lines from the film in perpetuity. Rudd's 'man talking to himself in the bathroom' monologue coupled with persistent glimpses of male frontal nudity throughout the film, are particularly side-splitting.
The marquee stars of "Wanderlust," Rudd and Aniston, more than hold their own throughout the picture. Having worked together in the past, the pair reveals a noticeable on-screen chemistry together, atypical for a newcomer like Aniston relative to the world of Wain. But it is the supporting cast that manages much of the serious comedic lifting. The ensemble's most memorable performances come from a bearded Justin Theroux as Seth, the lecherous, almost cult-like leader of the commune, and the legendary Alan Alda, whose performance as Carvin, the aged founder of the commune, delivers some of the film's biggest belly laughs. And as a cherry on top, fellow 'State' stars Kerri Kenney-Silver, Joe Lo Truglio, and Ken Marino join more familiar ladies- Malin Ackerman and Lauren Ambrose- to round out the cast's exceptionally brilliant timing and penchant for awkward joke delivery that helps to set "Wanderlust" well above an ordinary comedy.
Following the film's screening as part of The Film Society of Lincoln Center's 'Film Comment Selects' series, Wain, Rudd, Marino, Kenney-Silver, and Alda aligned onstage for a fun, interactive Q&A session. Much of the banter between comrades was particularly amusing, from Marino's recollections on utilizing a prosthetic penis, to the cast's reflections on using spontaneous improvising which alter the flow of the film, to Alda's slightly out of touch, babe in the woods routine when posed questions on 'The State' and some of Wain's earlier works. Wain did reveal that the DVD version of the film will include a disc of completely alternate takes, which when spliced together will create almost a completely different movie. The subsequent fan Q&A revolved around a "Party Down" film- which the cast seemed receptive to making- and Aniston's ability to blend in with the group immediately (said Kenney-Silver, "she showed up wearing a strap on" and "she wore an apron with a dildo in each pocket") on set. As the session concluded, the actors and director remained onstage, graciously posing for photo opportunities and greeting any attendees that approached them. Whether on screen or in person, perhaps it's that aura of affability and friendliness that makes the real life actors portraying these characters so close-knit and likable, and most importantly- funny.
"Wanderlust" is rated R, starring Paul Rudd, Jennifer Aniston, and Alan Alda, has a runtime of 98 minutes, and is released in theaters everywhere Friday, February 24th.
- Jay Rubin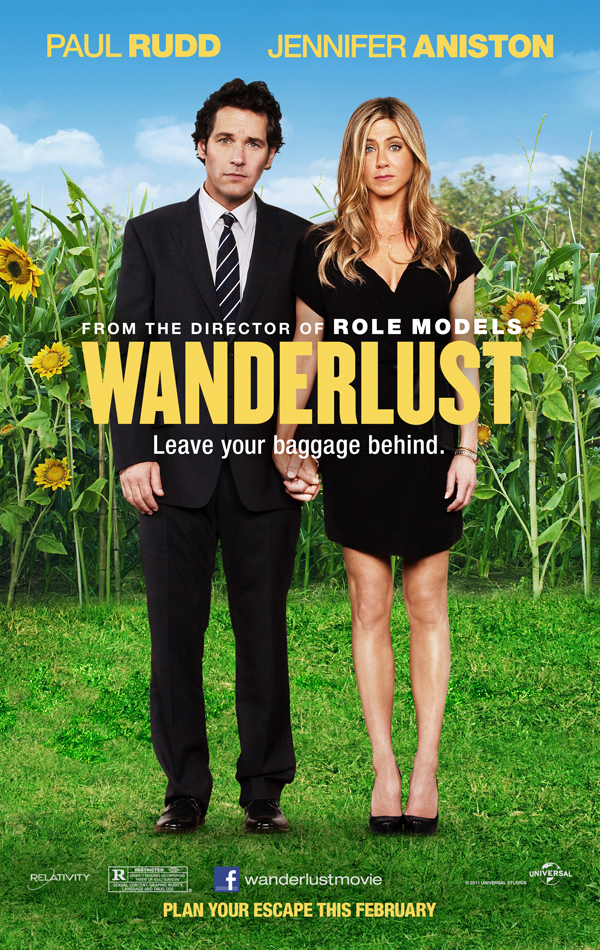 Related Articles
Share
About Author
(0) Readers Comments