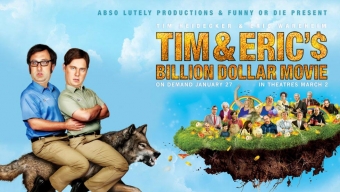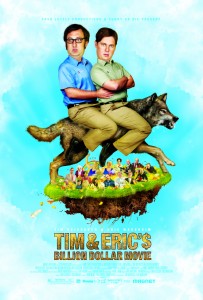 The world of comedy is not a one way street. If it was we would all be tripping on banana peels and getting hit in the face by rakes. Two men from Philadelphia are the saving grace of the genre, by infusing weird into the funny. They are Tim Heidecker and Eric Wareheim and for the better part of a decade they have entertained legions of alternative comedy fans with their trademark brand on television and in live shows. Fortunately, someone decided to give these two loads of money to go out a make "Tim and Eric's Billion Dollar Movie."
With "Billion Dollar Movie," Heidecker and Wareheim have elevated their break neck version of alternative comedy from their popular Adult Swim show without compromising their creativity. This is a stark contrast to Saturday Night Live, who time and again have attempted to stretch a five minute sketch into a ninety minute flick, often with spotty results.
This film follows Tim & Eric, who have just squandered away a billion dollars on a flop of a movie. The backer of this film gone awry is an old yet still remarkably scary Robert Loggia and his apparently evil Schlaang corporation, who puts fear into the boys to repay the money. Tim & Eric come to an understanding, and set out on a bizarre journey to repay the money by fixing up a rundown mall that may be overrun by wolves. It's a stretch of a premise, but once the film begins, it's easy to suspend any disbelief and remain engaged. In fact, a quote from Dr. Hunter S. Thompson seems to fit well here, "Buy the ticket, take the ride." The film is certainly worth it.
This movie is above all else, a love letter to fans. As a longtime supporter of the guys, Tim & Eric stayed true to their rooted weirdness and did not try to make a movie that was consumable by the masses. The film may attract curious onlookers, but in the end it's really for those of us who watched "Awesome Show, Great Job!" every week, and went to see them live whenever they came to town. They have taken an idea that one cannot realistically place in a fifteen minute TV show, and turned it into a reality on the big screen.
While it is true that the film contains some very high profile cameos from Zach Galifianakis, Will Ferrell, John C. Reilly, and Jeff Goldblum. But be forewarned- if you go to the movie just for them, you will be highly disappointed. These talented and well known actors serve a purpose in the movie and generate plenty of laughs but in the end this is Heidecker and Wareheim's movie, and they ultimately control the narrative.
"Billion Dollar Movie" is essentially a modern B-Movie, manufactured in a very deliberate manner, which can be compared favorably to the masters of brilliant schlock at Troma. And just like Troma films like "The Toxic Avenger" or "Class of Nukem High," the audience will laugh, squirm, and cry out, "Holy crap, I can't believe they went there." For a little over ninety minutes the viewer will be assaulted by the new wave of alternative comedy that may become the mainstream before long.
"Tim and Eric's Billion Dollar Movie" is rated R, starring Tim Heidecker and Eric Wareheim, has a runtime of 92 minutes, and will be released on Video On Demand on January 27th, and in a limited theatrical release on March 2nd.
- Jay Rubin
Related Articles
Share
About Author
(0) Readers Comments