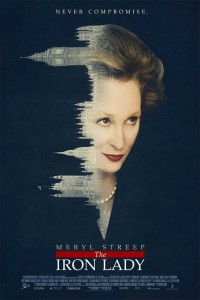 Talented as the iconic Meryl Streep is, it might shock you to learn that despite being nominated for the Academy Award for Best Actress a record 13 times, her first (and to date, only) victory occurred in 1982 for Sophie's Choice. Since then, Streep has become America's sweetheart, dazzling in virtually any role she undertakes. As such, when approached to play the first female Prime Minister in the history of the United Kingdom, Margaret Thatcher, Streep immersed herself in the role as we've seen her do time and time again and while the overall film fails to reach the same standard that Streep's films typically achieve, her performance is brilliant and believable all at once. Her acting in "The Iron Lady" (PG-13) shines an even brighter light onto the historic gender barrier effectively broken by an international legislative pioneer, while at the same time shining that very same light onto perhaps the greatest American actor/actress we've ever been awed by.
Doused in considerable makeup, the story follows Thatcher in the present day, slowly slipping to the depths of dementia. As her mental capacity diminishes, the film flashes back continually to Thatcher's rise to the top of the United Kingdom's political depth chart, from her youthful beginning in politics to her unceremonious departure from office, breaking into, what was at that point a male-dominated Parliament. All the while, Thatcher converses with her since deceased husband Denis, who perpetually appears to keep Thatcher on her toes and her memory of him alive, although constant reminders from the rest of her family remind her of otherwise. From her ascension to the heights of her popularity to the decline near the end of her time served in office, Thatcher's trailblazing ride was groundbreaking, and one that the film carefully does not undermine.
Certainly, creating a film that appropriately reflects the life of one of the greatest political figures of the last century is no easy task and to the credit of many critics, there are several factual and imperative historical details that probably did not warrant omission. But the film at its core, despite spending an inordinate amount of time on her illness later in life, paints a respectable picture of just who Margaret Thatcher was, and while not necessarily the Feminist Icon that "The Iron Lady" makes her out to be, the movie is an interesting and elaborate parallel between Thatcher's rise to power and subsequent decline, as her age and support begin to wane collaboratively.
As true to form to any of her movies that preceded it, Meryl Streep takes full ownership of a merely passable film and elevates it marvelously- to the point that you quickly forget that it is Streep performing under all that makeup. It's another in her long line of roles that make you realize that this is a performance of which no other modern actress would be truly capable. From her uncanny resemblance to the mannerisms and heavy accent, Streep's genuinely authentic performance is both utterly believable and memorable at once. "The Iron Lady" may fail to reach a targeted demographic outside of older historians, history buffs, and your parents, but as we approach Oscar season, you can be certain that the name Streep will once again be garnering all the buzz.
"The Iron Lady" is rated PG-13, starring Meryl Streep and Jim Broadbent, has a runtime of 105 minutes, and opens in theaters everywhere Friday, January 13th.
- Jane Van Arsdale
Related Articles
Share
About Author
(1) Reader Comment