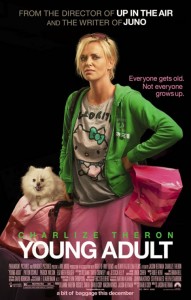 "Young Adult" (R) is a cautionary tale about a popular girl whose life appears to have peaked in high school. Now 37 years old and divorced, having moved from a quaint suburban upbringing to the bustle of a big city, Mavis Gary decides to head back home, in an attempt to reconnect with her high school boyfriend as if the previous twenty years had stood still. Armed with a bit of nostalgia and nothing to lose, she stops at nothing to win back her married ex's affection and attempts to lead a life on a path from which she previously had strayed.
The stunning Charlize Theron stars as the depressing but relatable Gary, the author of a series of young adult books originally created by a higher profile writer. As the series is waning, Gary works to complete the final book, while trying to keep the mangled pieces of her personal life in order. Living in an apartment in a Minneapolis high rise, Gary spends most of her days perpetually recovering from alcohol laden nights prior, often times waking up in random beds next to random men. Fed up with the perils of her current existence, she does the unthinkable and heads back to her rural hometown, checks into a motel indefinitely, and attempts to rekindle the flame extinguished by her high school sweetheart, Buddy Slade, a veritable townie who never escaped the small town rural life, played by Patrick Wilson.
Gary's chance encounter with her former classmate Matt Freehauf, played by Patton Oswalt, typecast as a nerdy, handicapped recluse leads to many of the film's more comedic moments. As Freehauf recounts some of the disturbing acts committed against him in high school, Gary remains unfazed, showing little remorse or sympathy, recreating the very person she was portrayed to be in high school. Or perhaps, more likely, she remains unchanged from her self-indulgent youth.
Written by Diablo Cody and directed by Jason Reitman (both from "Juno"), "Young Adult" is not a comedy in the true sense of the word, nor is it necessarily a drama. It is a sometimes cute sometimes dark revelation about a big fish in a little pond who believed she was too big for her britches, and in doing so ultimately looks back at the past twenty years with shades of regret. Theron is incredibly realistic here, often times dressing her beauty down enough to be believably portrayed as a sullen, fallen alcoholic, playing the role of the popular high school girl, now gravelling as her star falls back down to earth- perhaps not a character that we can all relate to, but definitely a situation that we take some small pleasure in reveling in. Throughout the film we slowly learn that alcoholism is her metaphoric crutch for the emotional pain she's been harboring internally and struggling with for years. In a way despite the callous, egotistical character she portrays, watching such a beautiful figure unravel before us is saddening. Perhaps that's what makes "Young Adult" so fascinating- the fact that it parallels our real life infatuation with watching celebrities fall from grace. But who are we kidding, it's nice every once and a while to see that high school sweetheart finally get her comeuppance.
"Young Adult"is rated R, starring Charlize Theron, Patrick Wilson, and Patton Oswalt has a runtime of 94 minutes, and is in theaters Friday, December, 9th
- Jane Van Arsdale
Related Articles
Share
About Author
(0) Readers Comments