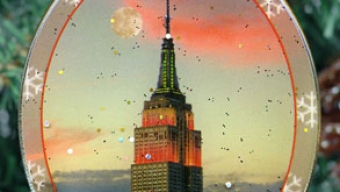 Looking for last minute, off-the-cuff weekend plans? LocalBozo.com has got you covered. It's not too late to figure it all out. For a glimpse of upcoming events that we'll be covering, check out the calendar in our side bar to your right. Otherwise, here are a few highlights to check out in and around Manhattan this weekend!
Arts & Culture
Friday, December 23rd – This holiday season Agora Gallery is proud to present, "Born of Fire" a solo exhibition featuring the work of, Carlo Proietto a talented Italian artist whose medium of choice is classical Pyrography. This showcase will brighten your weeks and leave you full of optimism and wonder. ( Agora Gallery )
Sports
Saturday, December 24th – It may be Christmas Eve, but that means nothing when it comes to ground and pound gridiron action. Head over to Metlife Stadium this Saturday afternoon to see Sanchez take on Eli, when the New York Jets take on the Giants. Both teams have had incredibly rough seasons, and uneven records to match. But, will one of these local teams pull out a Christmas miracle? Head over to the Meadowlands and find out for yourself.  ( New York Jets )
Music & Entertainment
Friday, December 23rd- Movie release day. Quiet Christmas weekend? Check out these holiday releases. Tom Cruise is back as super spy, Ethan Hunt in the forth installment of the Mission Impossible franchise. "Ghost Protocol," (PG-13) features a stellar supporting cast featuring; Jeremy Renner, Simon Pegg, and stunts that are going to blow audiences away. Also in theaters, is the highly competent book-to-screen adaptation of Stieg Larsson's, The Girl With The Dragon Tattoo (R). Daniel Craig and Rooney Mara light up the screen in this sexually charged thriller. Check out our full review for the inside "Dragon Tattoo" scoop!
Nightlife
Saturday, December 24th – Calling all good or bad Jewish boys and girls. Its the twenty-fifth anniversary MatzoBall at Capitale! It's the annual Christmas Eve event know for sparking more than 1,000 marriages promises to deliver a night of high-energy matchmaking. ( Maztoball.org )
Other
Sunday, December 25th – Ho, Ho, Brrrrr! It's the Coney Island Polar Bear Club, annual Christmas day plunge. After all you brave Santas, and Mrs. Claus's are finishing unwrapping presents head to Coney Island to take part in the oldest winter bathing club in existence. The swim takes place at the corner of Stillwell Ave. and the boardwalk. Just so you know, the water temperature around Christmas time is usually around 38 degrees or below. ( Coney Island Polar Bear Club )
And as Always, Droid users- make sure to Download the official LocalBozo.com App for FREE from the Android Market! Get all the information we can fit onto your smart phone, NOW!
Related Articles
Share
About Author
(0) Readers Comments