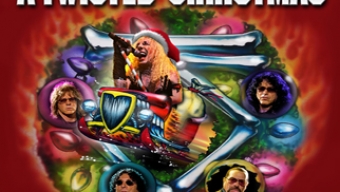 Looking for last minute, off-the-cuff weekend plans? LocalBozo.com has got you covered. It's not too late to figure it all out. For a glimpse of upcoming events that we'll be covering, check out the calendar in our side bar to your right. Otherwise, here are a few highlights to check out in and around Manhattan this weekend!
Arts & Culture
Friday, December 16th – Saturday, December 17th- Head to Williamsburg tonight and tomorrow night for the Brooklyn Night Bazaar. Fucked Up and The Hold Steady are headlining at the shopping extravaganza, open both nights from 5pm – 1am. The 40,000 square foot space will be home to food, clothing, and jewelry vendors- a perfect weekend to finish up your holiday shopping. ( Brooklyn Night Bazaar )
Saturday, December 17th- Tomorrow night, hit up the Knitting Factory for a "Spin the Dreidel" tournament held by the MLD…you know, Major League Dreidel. Live metal Hanukkah themed songs by 'Gods of Fire' will be blaring in the background as players vie for the longest spinning dreidel. It takes place in a 'Spinagogue.' ( Spin the Dreidel )
Sports
Saturday, December 17th- The Garden is in full swing this weekend with the 2011 Holiday Festival. College basketball style. At noon, catch a back to back afternoon of Rutgers taking on Stony Brook and St. John's battling Fordham. Tickets start as low as $25 and make a great precursor to the start of the NBA season on Christmas day. Whet that appetite for some hardwood action. Winter sports are here this weekend. ( MSG Holiday Festival )
Sunday, December 18th- Head out to MetLife stadium as the Big Blue Wrecking Crew continues their drive toward the playoffs as the New York Giants host NFC East rivals, the Washington Redskins. The G-Men need to make every game count, and this weekend's must-win is no different. Can Eli Manning and company keep rolling toward the postseason? ( Giants-Redskins Tickets )
Music & Entertainment
Friday, December 16th- Movie release day. Quiet night tonight? Check out these releases coming out today. Robert Downey Jr. and Jude Law return for "Sherlock Holmes: A Game of Shadows" (PG-13), directed by Guy Ritchie. The famed detective looks to solve a murder masked as a suicide, but the crime is just a small piece to a larger puzzle. Also, Jason Lee is back for the third installment of "Alvin and the Chipmunks: Chipwrecked" (G). Justin Long and Christina Applegate are along for the ride as Alvin, Simon, and Theodore get stranded on an island. For our recommendations, check out our recent reviews of "Carnage" (R) in limited release and "Young Adult" (R) in wide release. Both are terrific. Don't blame us if you hate all of them though.
Friday, December 16th – Sunday, December 18th – Lotsa good music and concerts coming through this weekend. Tonight, if you've got $13 you can head into Williamsburg for Bear Hands. The indie rock band returns to the NYC area, touring on the release of 2011's High Society. ( Bear Hands Tickets ). Tomorrow night, join LocalBozo.com at the Best Buy Theater for A Twisted Sister Christmas Extravaganza. The legendary glam rock act will play signature Twisted tunes as well as holiday staples. (A Twisted Sister Christmas Extravaganza). You've seen them in Todd Phillips' movies after they made a name for themselves out in LA. Tomorrow night, The Dan Band brings their brand of covers to the Gramercy Theatre. Tickets are just $35. (Dan Band Tickets). Finally, join New York's own MeTalkPretty in their headlining run at the Gramercy Theatre. The 5:30 show has four openers, so catch some great local music for just $19! (MeTalkPretty Tickets)
Nightlife
Saturday, December 17th- The holidays are in full swing. So grab that Star of David and head to the HighLine Ballroom tomorrow night for the Fifth Annual Menorah Horah. Comedian Seth Herzog hosts the event with DJs and live performances galore. Starting at 6pm too, so there's plenty of time to head out afterward. (The Menorah Horah)
Saturday, December 17th- It's a birthday soiree for Priscilla of the Bad Girls Club at Amnesia on West 29th Street. It's PlayBoxxSaturdays with state of the art sound and lighting and cutting edge DJs! Also tomorrow night, Le Poisson Rouge hosts "Bowieball: The Ultimate Glam Rock Revolution. Bowie songs, a charity extravaganza, and the merging of art, live music, and fashion and it all begins at 11pm.
Other
Sunday, December 18th- Our boy Matt Timms returns to Brooklyn's Bell House for another of his fantastic Takedown events. This one- the Cookie Takedown- brings challengers from far and wide with their best cookie concoction. There may be ice cold glasses of milk, there's sure to be booze, and the competitiveness will be high. ( The Cookie Takedown )
Saturday, December 17th – The Mayor's Alliance for NYC's Animals' proudly presents the 2nd Annual Whiskers in Wonderland event. What better way to celebrate the spirit of the season than to offer the precious gift of life to a homeless pet? Cats, rabbits, guinea pigs, and other small animals are popular choices for city dwellers with busy lifestyles and limited living space. Hundreds of 'apartment-perfect' animals from more than two-dozen Alliance Participating Organizations will be on hand to give potential adopters the widest variety of choices imaginable. Come bring a bit of holiday cheer to these homeless animals and be prepared to fall in love! ( Whiskers in Wonderland )
And as Always, Droid users- make sure to Download the official LocalBozo.com App for FREE from the Android Market! Get all the information we can fit onto your smart phone, NOW!
Related Articles
Share
About Author
(0) Readers Comments