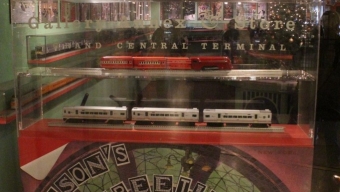 We here at LocalBozo pride ourselves on bringing you the very best of New York City with daily updates, and original content. And since it's the Holiday Season we feel the need to give back to all our loyal readers by providing you, "The LocalBozo.com Five Days Of Christmas." All this week we will inform you about great holiday happenings all over town. So, stay tuned and be merry!
Grand Central Terminal
42nd St & Park Ave
New York, NY 10017
(212) 340-2583
grandcentralterminal.com/
Getting There: Take The 4,5,6 To Grand Central Terminal 42nd Street
Blog: Holiday Train Show at the New York Transit Museum
Everything about the holiday season in New York City points to the hustle and bustle of being in a constant hurry. A glimpse inside New York's historic Grand Central Terminal will reveal plenty of out-of-towners racing to their track with countless shopping bags in hand, smacking other likeminded travelers in the face. Every day, hundreds of thousands of people walk or run through its halls to either catch their train home or arrive to explore the city. While the Terminal is typically a transportation hub, the New York Transit Authority is working toward making it more of a destination, one that travelers can appreciate for its seasonal sights. This year, the Transit Museum's Gallery Annex, which sits right in Grand Central Terminal, returns with the 8th Annual Holiday Train show.
Parents and children alike surrounded the 34 foot long train display, with realistic miniature versions of actual New York City trains running between the snow blanketed North Pole and back through Manhattan. The entire Annex is laden with decorative ornaments, lights, and Christmas trees, perhaps none of which is more eye catching than the one set in the train display right at the Annex's entrance, which the tracks are set around. The trains themselves are hand crafted replicas of Metro-North, Long Island Rail Road, and commuter trains respectively. Annoying as they can be to travel on, even realistic recreations of New York City Subway cars are running on display. None of this city meets holiday celebration would be possible without the tremendous manufacturing and ornate detail completed by Lionel Trains, who have managed to account for every intricacy for an authentic train show feel.
The Annex also boasts a sizable merchandise shop for souvenirs of your trip. Everything from hats, ornaments, shirts, mugs, and jewelry is available, but the replica trains and buses themselves are the typically most popular items, especially amongst young children. Sometimes, getting stuck during a commute can be an unnecessary hassle. And sometimes, it just gives you some more time to discover what is becoming an elaborate and fun little holiday tradition.
The New York Transit Museum's Gallery Annex hours are: Monday – Friday 8:00 AM to 8 :00 PM Saturday & Sunday 10:00 AM to 6:00 PM.
- Jay Rubin
Related Articles
Share
About Author
(0) Readers Comments