With the countdown toward 2012 coming much quicker than anyone anticipated, it's time to look back at the year that was 2011 here at LocalBozo.com. Check in with us all week long as we'll be choosing our favorite New York City experiences of the past year including restaurants, concerts, bars, films, and local events. Have a Happy and Healthy New Year and a Prosperous 2012 from all of us at Localbozo.com: All Local Stops.
All week long, we've counted down our favorite pieces of entertainment in 2011, and today, we're down to our favorite films of the year. Far be it for us to hand out any Academy Awards, but we humbly consider ourselves normal Manhattan everyman who can spot a good film when we see it and thoughtfully recommend the films that work, while panning the ones which do not. Our outlet was fortunate enough to screen each of these in advance and as such, our recommendations were unbiased based on how they performed at the box office. Here now, are LocalBozo.com's Top 5 films from the year that was 2011.
Number 5. Carnage, Rated R, Starring Kate Winslet, Christoph Waltz, John C. Reilly, and Jodie Foster, Runtime- 80 minutes (Posted 12/14/11)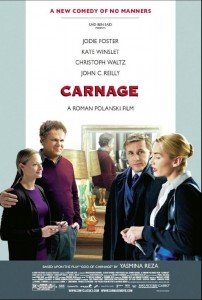 What we wrote then: ""Say what you will about [Roman] Polanski the person, but the director did an admirable job here in adapting this play into a full length feature film.  The dialogue is both enthralling and laugh inducing around a storyline delivered to be taken seriously."
Looking Back: Director Roman Polanski used every second of the short 80 minute runtime to make each piece of dialogue count.  The film is set entirely in a New York City apartment wherein two sets of parents begin arguing, first seriously- then comedically, over a fight that their young boys were involved in at school.  The mutual respect for each other slowly falls apart at the seams as the accusations toward each other begin flying, while the couples themselves begin bickering among spouses.  With an A list director and collection of actors, the film's brightest star is Christoph Waltz, whose role as a corporate attorney involved in a pending litigation seems to outweigh his concern for his own son's well being. Constantly distracted by his repeated work related calls, Waltz's style of tuning in and out of the heated conversation is both realistic and hilarious at the same time, often resulting in some of the more riotous comedy the film has to offer.  The normally reserved Winslet losing her composure and Reilly's everyman, goofball father character also come across surprisingly well in the unsettling situation.  Foster's performance was the film's letdown for us, but her portrayal didn't necessarily diminish a film that was captivating from start to finish, and was creative enough to keep a full length feature in one setting without becoming dull at any point.
Number 4. The Descendants, Rated R, Starring George Clooney, Judy Greer, and Matthew Lillard, Runtime- 115 minutes (Posted 11/15/11)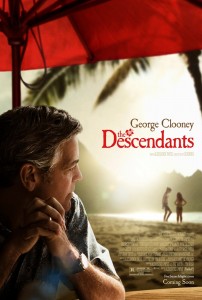 What we wrote then: "The idea of the family driven comedic-drama is nothing new. But with such a competent team led by Payne and Clooney, "The Descendants" hits on every level for a highly enjoyable movie going experience."
Looking Back: Whenever a new Alexander Paine film is released, fans can assume the picture will be funny, dramatic, and well acted. This is exactly how we felt about 2011′s The Descendants. Much of this praise should be bestowed upon the film's leading man, George Clooney. There is just something so likeable and real about Clooney that makes him a box office draw. Be it as a corporate fixer in the slow-burn thriller"Michael Clayton" or as we have seen him in this movie – a family man in paradise with a ton of personal baggage. Either way, audiences eat up his very real portrayals of everyday people. At its core, this film is undeniably an ensemble piece with several moving pieces. At the forefront you have the King family, dealing with the grief of their critically injured mother with a past and children who are at odds with their father. And brilliantly peppered throughout the piece the audience is provided with colorful characters providing plenty of conflict and hilariously awkward cannon fodder keeping the narrative moving along swimmingly.
Number 3. 50/50, Rated R, Starring Joseph Gordon-Levitt, Seth Rogen, Bryce Dallas Howard, and Anna Kendrick, Runtime- 99 minutes (Posted 9/28/11)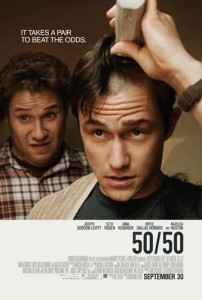 What we wrote then: "It's an inconceivable yet relatable premise because of the aura of invincibility that seems to render each of us as untouchable. That is, until life throws a curveball like this at us and we are forced to deal with circumstances previously thought to be unthinkable."
Looking Back: It's disappointing on so many levels that this film failed to attract more moviegoers to the box office upon its release. (Numbers as of 12/18 indicate a gross of just under $35 million) This was one of the more poignant and introspective film releases in some time, perfectly casted with the vulnerable lead (Gordon-Levitt), selfish goofball best friend (Rogen), stunning and self-absorbed girlfriend (Howard), realistically overprotective mother (Anjelica Huston), and the nurturing physician (Kendrick), all of whom delivered an extraordinary film that frankly deserved a better fate than to be relegated as one of 2011's forgotten. The roller coaster of emotions throughout 50/50, as Gordon Levitt is stricken with a rare form of cancer at 27, ranges from a 'keeling over with laughter' hilarity to a 'don't let anyone see the tears in my eyes' melancholy. Levitt and Rogen here may have delivered their finest range of acting performances to date, and are so down to earth and relatable that 50/50 exhibits a very real quality to a circumstance that would seem to be unheard of. While the film's comedic moments are hilarious during, there is an emotional overtone that remains a weight on your shoulders throughout, without knowing how the film will necessarily conclude. Somehow between comedy and drama, director Jonathan Levine stumbled on to creating an incredibly touching, wildly entertaining, and a fascinatingly fantastic film. We just wish that more people would stumble on to seeing it.
Number 2. The Girl with the Dragon Tattoo, Rated R, Starring Rooney Mara, Daniel Craig, and Christopher Plummer, Runtime- 158 minutes (Posted 12/20/11)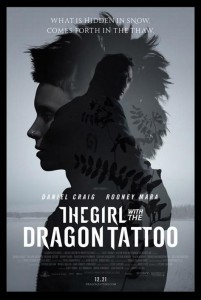 What we wrote then: "Adapted for the screen by David Fincher from Stieg Larsson's captivating best selling trilogy, the initial film descriptively brings the pages of the book to life and manages to stay remarkably true to Larsson's vision."
Looking Back: Condensing a 644 page masterpiece into a feature film was seemingly no easy task for director David Fincher. But once properly casted (and the film is absolutely well casted), the director was forced to omit some key storylines and ideas from the novel and focus on the importance of character development to move the plot ahead, none of which necessarily marred the central focus of the film- sifting through the corruption of the Vanger family to solve the disappearance of niece Harriet, some 40 years prior. Without first having read the book, the film moves along at a rapid pace, set to the intense score by Nine Inch Nails' Trent Reznor and partner Atticus Ross, focusing primarily on the use of sexual aggression in struggles for power. Many scenes are not for the faint of heart, but Fincher appropriately chose not to exceed any level of explicitness for the sake of doing so, and as such, the film is considerably more watchable because of it. Both Craig and Mara play believable portrayals of Larsson's characters and become so endearing by the end of the film that despite their questionable motives throughout, you continue to root for them. Mara's handling of the particularly intense scenes was a testament to the actress' acting chops; her comfort in front of the camera was palpable even in situations meant to leave us uneasy. But instead, we can't wait for the next two sequels, and while there were some minor inconsistencies between the film and Larsson's first in the written series, the excellent movie should not be docked points as a result and stands alone as one of the finest pieces of cinema in 2011.
Number 1. Moneyball, Rated PG-13, Starring Brad Pitt, Jonah Hill, and Philip Seymour Hoffman, Runtime- 133 minutes (Posted 9/21/11)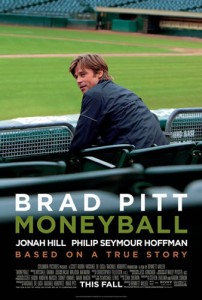 What we wrote then: "Whether you're a diehard baseball fan, or someone who never watches a game, Moneyball will have something in it for you. We love our film protagonists to be strong and quick-witted, but also flawed like we all are. Pitt shines here in each category, making this an Oscar worthy performance by one of Hollywood's biggest names, portraying a big time player who helped change America's greatest game."
Looking Back: When one thinks of a baseball film two things usually come to mind- action-packed scoring montages and general horseplay, yet 2011′s Moneyball delivered none of these ready made plot points. Instead we are given a dialogue heavy character study penned by Aaron Sorkin, a man who can make a casual walk down the hallway seem like a life or death situation no matter what is being said. Brad Pitt masterfully plays Billy Beane, the General Manager of the Oakland Athletics. Beane is a man on a mission trying to look past time tested theories on managing and scouting, to build the perfect ball team with on his limited budget using new-wave statistical data. Pitt is quite easy to route for in this film, as he is an underdog with the bite of a pit-bull trying to scrap his way to a championship. Jonah Hill's analyst character provides both a great comedic foil and partner in crime to Pitt and it was truly impressive to see this guy do some real acting for once. We loved the film because it is a flat out human story. Pitt's Beane is far from the General Manager who farts out wins because of billions of dollars at his disposal. He must work within his means to get the job done right. A historical review of Oakland's actual season reveals plenty of legitimate points that the film ignores, but movies tend to focus on the juicier points of any real life occurrence. As such, little attention is placed on actual games being played yet only because it is the words and actions behind them that really count most in Moneyball.
Honorable Mention: Here's a few of our other favorites that JUST missed the cut:
Win Win, Rated R, Starring Paul Giamatti, Amy Ryan, and Jeffrey Tambor, Runtime- 106 minutes (Posted 3/10/11)
What we wrote then: "Win Win is a movie that explores the circumstances of moral compromise, from one kid's rugged upbringing to the opposite- a seemingly stable nuclear family. The film combines laugh out loud elements, very real socio-economic problems, and a real, relatable cast that collaborates to shine in an enlightening, if not completely entertaining 106 minutes"
Drive, Rated R, Starring Ryan Gosling, Albert Brooks, Carey Mulligan, and Bryan Cranston, Runtime- 100 minutes (Posted 9/13/11)
What we wrote then: "Despite [my] initial judgments, "Drive" grabbed my attention from the very beginning, held it right until the very end, and blew my initial expectations out of the water. It has all the elements of a memorable action/drama."
The Skin I Live In, Rated R, Starring Antonio Banderas and Elena Anaya, Runtime- 117 minutes (Posted 10/13/11)
What we wrote then: "Fans of film that are willing to take risks will surely love "The Skin I Live In." It is both bleak and beautiful all at the same time. The plot is enticing with its twists, turns, and jaw dropping performances by its principal actors."
- Jane Van Arsdale & Jay Rubin
Related Articles
Share
About Author
(0) Readers Comments