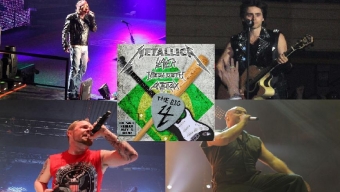 With the countdown toward 2012 coming much quicker than anyone anticipated, it's time to look back at the year that was 2011 here at LocalBozo.com. Check in with us all week long as we'll be choosing our favorite New York City experiences of the past year including restaurants, concerts, bars, films, and local events. Have a Happy and Healthy New Year and a Prosperous 2012 from all of us at Localbozo.com: All Local Stops.
2011 saw many of music's finest acts make their way to New York City. From Gaga to Kanye, Springsteen to Dave Matthews, and seemingly everyone else's favorites somewhere in between. There were new festivals that were created strictly for our area and others that passed us by, forcing us to trek it out to them. Many of our favorite live performances took place in the last few weeks alone, and with days left in the year, there's still some time for other bands to crack this list. While our post is titled "The Best Concerts in NYC," what we truly mean is "The Best Concerts in Our Area," and with that, LocalBozo.com is proud to count down our Top 5 live concert experiences of 2011. Rock on.
Number 5. Guns N' Roses, Izod Center , November 17, 2011 (Posted 11/18/11)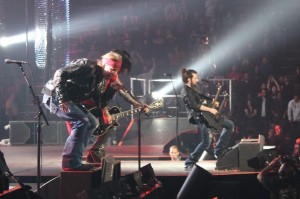 What we wrote then: "Thursday night, Axl [Rose] and a re-formed outfit returned to a relatively undersold Izod Center across the river in New Jersey, once again proving that despite the time he's spent out of the public eye and the countless knocks against him, he remains one of the greatest live performers in rock music history."
Looking Back: With this year's nominees for the Rock and Roll Hall of Fame announced shortly after Guns' New Jersey performance and the band officially being placed on the ballot for the first time, the clamoring for the original lineup to reunite has once again begun to amplify. However those hoping for the original bandmates to put aside their differences likely ignored the incredible, almost three hour live show that Axl Rose and his re-formed band delivered in their only area performance in November. Notorious for late start times, the band took the stage at 11pm but wasted little time banging out every one of their famed hits and then some. Renditions of "Estranged," "Don't Cry," and "Patience" were especially stirring, while the faster paced "It's So Easy," "You Could Be Mine," and "Nightrain" made the smallish, but energetic crowd explode. Mixing in songs from 2008's 'Chinese Democracy' album seamlessly with iconic singles "Sweet Child of Mine," "November Rain," and "Paradise City" (and a killer cover of AC/DC's "Whole Lotta Rosie") proved no problem for Rose, whose signature voice and swagger seemingly hadn't dissipated since he left the proverbial spotlight in the mid 1990s.
Number 4. Share the Welt Tour featuring Five Finger Death Punch & All That Remains, Best Buy Theater, November 23, 2011 (Posted 11/24/11)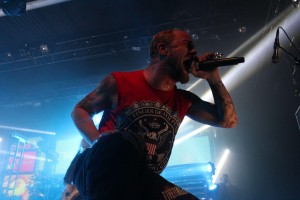 What we wrote then: "Headlined by one of metal's most explosive and emerging acts, Five Finger Death Punch with support from heavyweights All That Remains, as well as Hatebreed and Rains, the four plus hour bill would serve as a look at metal music's emergence over much of the past decade, showing that despite a dearth of commercial outlets, the genre remains alive and well in 2011."
Looking Back: There've been sold out shows at the Best Buy Theater this year and then there was the "Share the Welt Tour." Packed to the gills with rabid hardcore and metal fans, the four band bill was a nonstop energy release, equipped with violent moshpits, crowd surfing, and leaping fans from the elevated level to the standing room only floor. The show exhibited a growth in maturity for All That Remains moving from a solid opener to a viable headlining act, mixing their howling metal screams with unlikely vocal harmonies, as the band's complete set proved largely impressive. Singles "Hold On," "Forever in Your Hands," and "Two Weeks" were especially memorable. Although the opening acts managed to rev the crowd, headliners' Five Finger Death Punch forced them to become unglued. On just their third album, the band showed the poise and stage presence missing from most touring acts today. Backed by an intricate arena-like stage setup packed into the backdrop of the small theater, frontman Ivan Moody and company ripped through their 75 minute set without abandon, managing to rile up and pulverize their rowdy fans at the same time. Between the pounding riffs of "Over and Under It," the female crowd surfers during "The Bleeding," and the teases of Pantera, Ozzy Osbourne, and Deep Purple before covering Bad Company's "Bad Company," Moody interacted often with New York's faithful, often spouting some pro New York sports rhetoric, which the hungry crowd seemed to salivate over. Just before the Thanksgiving weekend, the guys Five Finger Death Punch delivered one of the more memorable shows this year, and takes their well deserved place on our list.
Number 3. 30 Seconds to Mars, Hammerstein Ballroom, December 7, 2011 (Posted 12/8/11)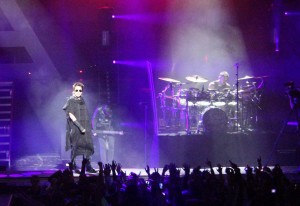 What we wrote then: "Some amalgamation of rock, mixed in with bits of alternative and even some pop with a touch of theatrics dabbled in, bred the band 30 Seconds to Mars."
Looking Back: If you would have told us that some actor would have put on one of the best rock shows in our area in 2011, there's a good chance your statement would have been met with some skepticism. That said, after experiencing 30 Seconds to Mars' record breaking 300th show on the same album cycle- a Guinness World Record- our premature doubts would have been effectively squashed. Backed with massive video boards and an elaborate stage setup, frontman Jared Leto and his band would broadcast their two New York City shows around the world via VyRT, an innovative system that would allow fans to tune in to the shows digitally. The incredible technology (Leto would grab a MacBook throughout the show to interact with fans electronically) coupled with Leto's acoustic set near the mixing board pit, up close and personal with the rabid 30 Seconds' followers, made this more than just another rock show. It was more of a live performance art experience. Fantastic live renditions of "Kings and Queens," "The Kill," "A Beautiful Lie," and our personal favorite- "Vox Populi" only helped to showcase even further the evident talents of this band. And the surrounding spectacle of the show enhanced their star power to even greater heights. This was a show that opened our eyes as to why 30 Seconds to Mars has such an intense worldwide appeal.
Number 2. Rockstar Mayhem Festival featuring Disturbed, Godsmack & Megadeth, Susquehanna Bank Center, July 31, 2011 (Posted 8/1/11)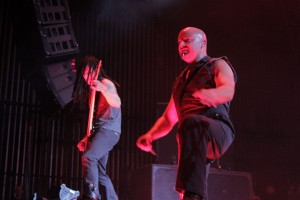 What we wrote then: "The Mayhem Festival is a multiple city, summer music tour featuring the very best in hard rock and heavy metal music. Because of the massive size and multiple stages involved in each show on the tour, the Festival was forced to pass Manhattan by."
Looking Back: Nobody is going to mistake Camden, New Jersey for anything resembling Manhattan. But when we were able to utilize a beautiful July afternoon for a day long festival of hard rock and heavy music, it was simply a drive that we weren't willing to pass up. The festival boasted 3 stages- the main ampitheatre stage in the Susquehanna Bank Center and two smaller ones out in the parking lot, sponsored by Revolver Magazine and Jagermeister, respectively. The support acts alternated on the outdoor stages- so quickly in fact that there were never any delays for set changes. It was band after band after band all afternoon, until Machine Head would close out the early portion of the show as the sun began to fade. Walking inside, we took our seats for the headliners to take the stage. We sat in awe as Megadeth's Dave Mustaine, Godsmack's Sully Erna, and Disturbed's David Draiman controlled the thousands on hand with their commanding stage presence alone. The final three acts pounded through their hits as if you had turned your iPod to shuffle as the Camdenites licked up every lick of it all. And each band had their own little niche that helped them shine- Disturbed had the most detailed stage setup and pyrotechnic display, Godsmack's Erna paraded around to different instruments showing his musical versatility in perhaps the evening's most well rounded performance, and the Mustaine-led Megadeth had more of a no frills, old school rock feel to them, mixing in their famed metal anthems with cuts from their not-yet-released at the time new album Thirteen. It was a day long celebration of rock music's future and past, and gave fans the opportunity to see some of the biggest acts of the past two decades share a stage for the first time.
Number 1. The Big 4 featuring Metallica, Slayer, Megadeth & Anthrax, Yankee Stadium, September 14, 2011 (Not Posted)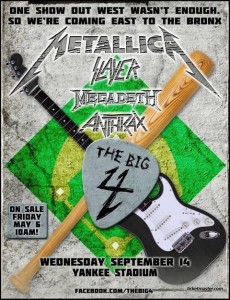 What we wrote then: Candidly, our outlet opted to attend this historic show at Yankee Stadium as fans instead of covering it and reflecting back on the show today only lends creedence to the fact that it was 2011′s best concert.
Looking Back: Imagine. The rock show of the entire year. Played in the Bronx. With albums released later in their careers some considered hits and some considered misses to their longtime fans, Metallica's area performances over the past 5 or so years have been similarly inconsistent. Inconsistent for this band, as in ranging from very good to great- considering a Metallica show is never anything less. The band's catalogue of material simply won't allow them to be. But in their only show on the east coast, reuniting with the same thrash metal heavyweights that emerged with them, Metallica and company delivered one of their finest performances, sounding as tight and as heavy as they did in their prime. With support from Anthrax, the widely unheralded Megadeth, and the guys from Slayer- each of whom held their own on stage in the converted baseball stadium- it was the mighty Metallica who sat head and shoulders above the rest on this night. Their two plus hour performance included every staple older fans would welcome, as well as a few numbers from 2008′s "Death Magnetic." From the incredible one-two punch opener "Creeping Death" into "For Whom the Bell Tolls" to "Blackened," "Welcome Home (Sanitarium)," "Battery," and the iconic "Master of Puppets," the sound in Yankee Stadium was absolutely perfect for the show, and the band delivered with their every note. Perhaps the highlight however was the encore, where frontman James Hetfield welcomed the musicians from the 3 other bands back onstage for a performance of Motorhead's "Overkill," giving a nod to each band's past influences, and proving that each of them are by no means done.
Honorable Mention: Here's a few of our other favorites that JUST missed the cut:
Governor's Ball Music Festival, Governor's Island, 6/18/2011
Red, Gramercy Theatre, 10/17/11
My Chemical Romance, Terminal 5, 4/22/11
Brian Wilson, HighLine Ballroom, 6/13/11
Marcus Miller's Concert for Japanese Tsunami Relief, HighLine Ballroom, 5/15/11
- Jane Van Arsdale
Related Articles
Share
About Author
(0) Readers Comments