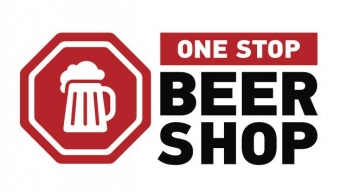 One Stop Beer Shop
134 Kingsland Ave
Brooklyn, NY
(415) 419-4108
www.1-sbs.com
Getting There: G To Metropolitan Avenue
The opening night of a bar or brew shop in this town is akin to that great leather smell you get from a new car for me personally. It's a fresh start and a chance to test drive something new and see if it fits. Last night we headed over to the Greenpoint section of Brooklyn to partake in the opening night party for the new joint, One Stop Beer Shop. And if the crowd, aesthetics, and brew and cocktail selections are any indication this place is going to fit just right into an already bustling neighborhood.
'One Stop' is housed in a beautifully restored pre-war storefront that seamlessly blends into the surrounding neighborhood, maintaining an old school Brooklyn vibe. When one enters into the cozy space, a long dimly lit bar divided into two sections is there to greet customers, while making it easy to move around. Seating options (as of last night) were available at the bar, a nearby table, and large comfortable cushions inside of the street facing, window frames for a bit of a different look and feel. And because of the popularity of Thursday's opening night festivities, the multitude of seating options was a big help because this place was packed with lovers of all things alcohol.
Craft Beers and mixologist style cocktails were the name of the game last night as patrons were able to sample deliciously inventive drinks like the "MiShinelada," concocted with The Original Moonshine, tomato juice, lime juice, Sriracha sauce, Chipotle Tabasco, and topped off with Brooklyn Lager. This mixing of uncommon ingredients was a big hit as most found the flavor to be sweet and savory with a fiery kick.
While innovative cocktails pleased many, this crowd seemed to be craving some suds. And yes the beer, she was a flowing! The moniker One Stop Beer Shop is an appropriate name for this joint. With fifteen brews on tap and a seemingly endless bottle selection and a growler filling station, customers will have a fun time sampling their way through the diverse selection. Luckily their crack staff is always on hand to answer any question you may have when it comes to their brews. The ales ranged from light fare like Narragansett all the way to the bold- their 10 % Brooklyn Black Chocolate.
As the hours rolled on, the crowd got thicker and partied harder. Waitresses passed through this sea of humanity carrying trays filled with samples of tasty pulled pork sandwiches to satisfy everyone's hunger. And even though it was a packed house it appeared that all in attendance left with a smile on their face, and a beer twinkle in their eyes. Hopefully during our next visit we can grab a seat at the bar and make our way through this seriously impressive list of killer suds. Cheers, and welcome to the neighborhood!
- Jay Rubin
Related Articles
Share
About Author
(0) Readers Comments