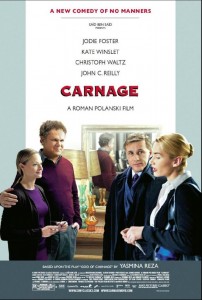 With a film title like "Carnage," one might expect a different kind of Roman Polanski movie. Adapted for the big screen from the short Broadway run of "Gods of Carnage," the so called carnage in the film takes place almost invisibly at the movie's opening, as the rest of the 80 minutes unfolds in the aftermath. But instead of the gore and violence, we are left with a fun little movie, with an infinitely relatable premise.
"Carnage" (R) is loaded with an excellent cast of four- Kate Winslet, John C. Reilly, Jodie Foster, and Christoph Waltz. The story follows two sets of parents bickering over a dispute in which one of their children struck the other in the face, knocking out his front teeth. The film begins to take shape once we realize that the four will not ever leave the apartment and each time it seems that the four are close to a resolution, the conflict re-emerges, escalating the situation to even more outrageous depths of comedy.
The brilliance of the cast here simply cannot be understated. Waltz, it should be mentioned, shines perhaps brighter than the rest of the bunch as a Type A father, concerned for his child but consumed with his profession as a corporate attorney, continually halting the families' conversation to take work calls. Winslet, his wife, is similarly wired, although she tires of his carelessness as the film progresses. Her conservative demeanor slowly diminishes, and as such Winslet's behavior becomes the film's eternal comedic highlight, as she spirals further out of control. Reilly effectively meshes the blue collared, worrisome father figure with a perfect amount of comic foible to inject sufficient comedic elements into his goofy character. Somewhat surprisingly, Foster is the weakest link of the quartet. It's difficult to tell if she's simply overacting or if she was just outperformed by the rest of the cast, but it was Foster's performance that proved most disappointing- interesting, considering her role as an overprotective mother would seem to be an ideal fit.
Say what you will about Polanski the person, but the director did an admirable job here in adapting this play into a full length feature film. The dialogue is both enthralling and laugh inducing around a storyline delivered to be taken seriously. The lengths each couple goes through to defend their spouse and subsequently prod the other family gets more incessantly extreme, which in turn makes the film more and more enjoyable. Even with such a short run time, the heralded director makes every minute count and with a glut of films released around the holiday season, "Carnage" is one that unequivocally deserves your attention.
"Carnage" is rated R, starring Kate Winslet, Christoph Waltz, John C. Reilly, and Jodie Foster has a runtime of 80 minutes, and opens in limited release Friday, December, 16th
- Jane Van Arsdale
Related Articles
Share
About Author
(0) Readers Comments