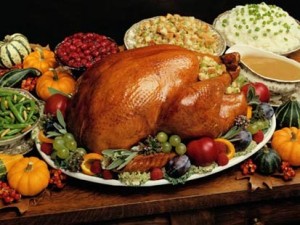 A Guest Blog by Registered Dietitian Leslie Goldstein of HealthyStepNutrition.com
Although the weather's been quickly changing lately to winter and most people dread the cold, I know all of you New Yorkers are excited that Thanksgiving is almost here. With that in mind, I thought I'd give you some helpful pointers to stay fit and healthy during the holiday, whether you are cooking or just eating! During the holidays, try not to "let yourself go" but enjoy yourself and have fun with family and friends. Being wary and knowledgeable during these times will help to prevent weight gain. Remember, there are no "good" or "bad" foods and all foods have their place in moderation. Below find some tips to help you survive eating during the holidays. Unfortunately there are no tips for surviving the in-laws!
1.            Plan Ahead-
If you're going to a party, have a snack beforehand, this way you won't be starving and grab high fat foods from the buffet (i.e. cheese, creamy dips, mini hot dogs, etc.) Fasting before the party and "saving yourself" will only result in overeating
Limit foods that you don't enjoy or that are calorie fillers.  Chips, pretzels, flavored nuts, and soda contain calories, sugar, and fat with little nutritional value.  These will fill you up before you eat your main meal
2.            Watch Portion Sizes-
Try to include every item from the food pyramid but make sure to try and limit large portions.  This way you will be able to sample any the foods you enjoy. 
Don't fill up on bread, stuffing, cream soups, creamy salad dressings & gravy- these foods are incredibly calorie filled
3.            Make Smart Substitutions-
Try to substitute when you can- use skim or low fat milk products, sub applesauce for ½ the butter while baking seasonal pies or cookies (your relatives won't notice!), choose spices over oils to add flavor, & have fruit for dessert to get in your daily 2-3 servings!
4.             Exercise-

Stress is common during the holidays with tons of cooking and working around hectic schedules- try to exercise to fend off the extra calories which will release endorphins to help ease stress.
If you can't fit in 30 minutes daily, try to include spurts of 10 minute activities- take the stairs, do jumping jacks/lunges during commercial breaks or while cooking! Or suggest taking a family walk after dinner!
Lastly, enjoy yourself.  Savor the food you are eating and the company you're with.  By enjoying your food and eating slow you will be more aware when you become full. 
Below are some light Thanksgiving options for those of you cooking:
• Starters- mushroom, pumpkin or squash soup (use low sodium broth for flavor)
• Dips- hummus or white bean (both contain fiber and protein!). Dip with carrots, celery, red pepper, jicama, or zucchini rather than crackers, chips or bread
• Side dishes- sweet potatoes, sautéed spiced carrots, roasted butternut squash or red beets (all provide antioxidants!)
- Leslie Goldstein, RD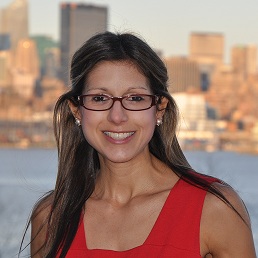 Leslie Goldstein is a Registered Dietitian (RD) practicing in North Bergen and Hoboken, New Jersey. Leslie is an avid exerciser who combines her nutrition knowledge and passion with motivational support in counseling to help her clients make lifestyle changes. Leslie specializes in weight management, general wellness, Diabetes, bariatric surgery, hypertension and cardiovascular disease. Leslie accepts most major insurances. TELEPHONE CONSULTS AVAILABLE AS WELL.
8100 Kennedy Blvd. North Bergen, NJ 07047 Ph: 201-378-3287
Email: LeslieGoldsteinRD@gmail.com
Related Articles
Share
About Author
(0) Readers Comments