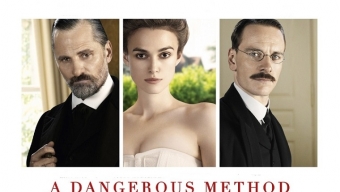 "A Dangerous Method" is a time period piece which begins at the turn of the 20th century and essentially seeks to track the origin of psychoanalysis. Unfortunately, the premise behind the actual movie is about as intriguing as this film gets. The David Cronenberg (Eastern Promises, A History of Violence) helmed project re-teams the director with actor Viggo Mortensen, but ultimately fails to recapture the same excellence delivered in their previous two experiences.
Michael Fassbender stars as the infamous doctor, Carl Jung, who takes on a hysterical Keira Knightley (Sabina Spielrein) and through the use of the methodology identified by his mentor of sorts, Sigmund Freud (Mortensen), manages to work toward curing the young girl while expounding upon therapeutic benefits of understanding people through conversational understanding. During his time with the patient, Jung understands how she is haunted by her violent past and how her displaced anger prevents her from moving forward. Once realizing the veritable normalcy and sheer intelligence under her surface Jung effectively cures her and sets her on a path toward her own studies in the field of psychoanalysis. But not before the temptation of sexual desire arises, threatening Jung's practice, his marriage, and his relationship with Freud all at once.
Without giving too much away, the 93 minute film was both prodding and predictable- not because of the historical perspectives involved, but because the perceived swerves were all palpable. It should certainly be noted that the subject of the birthing of a new science that would essentially transcend and revolutionize the next century would be shown as an exciting, incredible time in history- but "A Dangerous Method" buried itself in a boring back story which was neither captivating nor very interesting. Coupled with Knightley's up and down performance- some of it memorable, but most of it seemingly exaggerated- Mortensen and Fassbender seemed to be stifled, hindered by the strict limitations in the uninteresting dialogue and behaviors of their characters.
History certainly makes much more out of the emergence of psychoanalytic study and its contributions to how we have evolved as a people in terms of understanding our own flaws, explaining how we develop to become who we become, and as such in the treatment of patients whose own problems deserve to be uncovered. With such a historical framework and an exciting concept with which to work, the true wonder is why Cronenberg and a typically fantastic cast couldn't do more with what they were given.
"A Dangerous Method" is rated R, starring Viggo Mortensen, Keira Knightley, and Michael Fassbender, has a runtime of 93 minutes, and is in limited release in theaters today, November, 23rd

- Jane Van Arsdale
Related Articles
Share
About Author
(0) Readers Comments