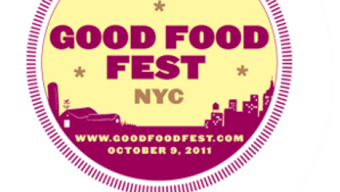 Looking for last minute, off-the-cuff weekend plans? LocalBozo.com has got you covered. It's not too late to figure it all out. For a glimpse of upcoming events that we'll be covering, check out the calendar in our side bar to your right. Otherwise, here are a few highlights to check out in and around Manhattan this weekend!
Arts & Culture
Friday, October 7th- Yoko Ono & Bag One Arts Present a free SoHo exhibit, to benefit Citymeals. With nearly 100 limited edition drawings and songwritings that John Lennon created from his youth in 1964 to his untimely death in the 1980s. Including a never-before seen piece titled 'On Cloud Nine.' Sounds like a must see for any Beatles fans. Also, for you- one Yoko Ono fan. (Yoko Ono's Pop Up)
Sunday, October 9th- New York City based photographer Kelsey Bennett unveils her most recent collection of stills at the Morrison Hotel Gallery through October 9th. It coincides with the release of Tony Bennett's new album 'Duets II', featuring duets with fellow icons such as Aretha Franklin, Lady Gaga, Willie Nelson, K.D Lang and the late Amy Winehouse. (Morrison Gallery)
Sports
Saturday, October 8th- Sunday, October 9th- Hockey season is now underway. Hit the rock tomorrow night as the Devils host the Philadelphia Flyers- who now have Jaromir Jagr apparently?!? (Devils Tickets). Hockey not your thing? Ours either. Sunday, your New York Giants play host to the Seattle Seahawks to further extend their lead in the now questionable NFC East. Hope for the slaughter that it should be. (Giants Tickets)
Music & Entertainment
Friday, October 7th- Movie release day. Quiet night tonight? Check out these releases coming out today. George Clooney, Ryan Gosling and a studded cast open in "The Ides of March" (R). Assuming you've read our review, you can give this one a shot if you feel so inclined. Also, Hugh Jackman stars in "Real Steel" (PG-13) about real life Rock 'Em Sock 'Em robots around a Rocky like premise. Also, in iMax. For a real treat, find where "The Way" (PG-13) is playing and go see it. Dramatic, funny, and thought provoking. Also, it has Emilio Estevez! Read our review on it now!
Friday, October 7th- Saturday, October 8th- Tonight, catch two live performances of FX's The League live at the Gramercy Theatre. Tickets may be sold out, but give it a shot here- Jon LaJoie, Nick Kroll- gonna be a full house all night. (The League LIVE!). Also, head out to BK on Saturday for BedStuy comes alive- the 5th Annual Restoration Rocks Music Festival includes a day long concert with Mos Def and the Brooklyn Philharmonic, Pharoahe Monche and Talib Kewli and Res!
Nightlife
Friday, October 7th-Saturday, October 8th- Tonight, hit Williamsburg as DJ Spinoza brings Bunker Bash to Public Assembly. Or head out to the Brooklyn Academy of Music (BAM) for its Late Night Dance Party with DJ Idlemind. Tomorrow night at 9, Avenue A's Drom has a Vampire Ball NYC style. Halloween may be later this month, but Alphabet City knows a thing or two about blood and fangs already. (newyorkvampire.com). Or check out Santos Party House for Discovery: Boris Werner + Sergio Santos. No idea who they are, but it sounds like a real gas. Dancing included; Blowouts optional.
Other
Sunday, October 9th- The Good Food Fest commences at Gansevoort Plaza! Awesome spots like Gramercy Tavern , BLT Prime, and Pastis will be supplying tastings for as little as $20 for 4 with proceeds going to charity. Great food. Great event. Great cause. Eat up! (Good Food Fest)
Related Articles
Share
About Author
(0) Readers Comments