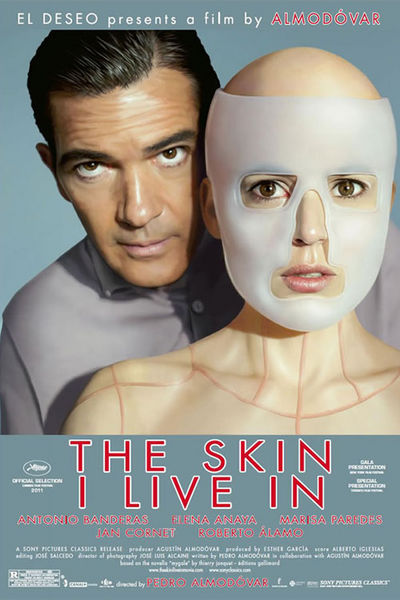 "The Skin I Live In" stars international leading man Antonio Banderas as a brilliant plastic surgeon, obsessed with past tragedies of lost love. The talented yet troubled man creates a type of synthetic skin that can withstand damages of any kind. His guinea pig- a mysterious and volatile woman, played by the breathtaking Elena Anaya- may hold the key to his recovery or lead to his ultimate downfall.
The term "body horror" has been associated with such directors as David Cronenberg and David Lynch. But with this film, Pedro Almodóvar deserves a place right next to them. While the mad scientist sub-genre is nothing new in film, "The Skin I Live In" sees Almodóvar improve upon the relatively passe theme, utilizing many current plastic surgery trends like facial reconstruction surgery through the use of corpse tissue. These surgery scenes are shot with the utmost care, almost beautiful, in a macabre sort of way. Each and every shot in the film, framed by Cinematographer José Luis Alcaine is like a piece of fine art, meant to frighten or tantalize the viewer at any given moment.
The performances Almodovar was able evoke by both star Antonio Banderas and Elena Anaya were not only the best in the film, but perhaps the pair's best work in film to date. With a premise as twisted this one, a director needs his cast to believe in its absurdity. Without that commitment, the audience would easily laugh the film off as standard B-movie fare. The belief in these actors is remarkably realistic, which prevents the filmmaker from insulting viewer intelligence.
What makes this film such a joy to watch is the fact that nothing is off limits. Taboos and social norms have no place here. "The Skin I Live In" is a prime example of dangerous film-making, where the audience has no idea what will happen next, but trusts the director in his decisions no matter how disturbing they may appear on the screen. Banderas is nothing short of frightening, as the lead. We are invested in him throughout the film no matter what he does, which is troubling but, again is a testament to his marvelous performance.
Fans of film that are willing to take risks will surely love "The Skin I Live In." It is both bleak and beautiful all at the same time. The plot is enticing with its twists, turns, and jaw dropping performances by its principal actors. Just be prepared to wander the streets after seeing it, with your hand affixed to your head in jarring disbelief.
The Skin I Live In is rated R, starring Antonio Banderas and Elena Anaya, has a runtime of 117 minutes, and will be released in theaters in New York and Los Angeles this Friday, October, 14th.
Related Articles
Share
About Author
(1) Reader Comment