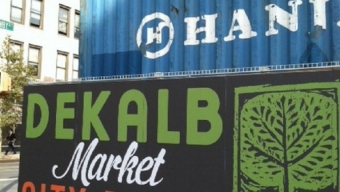 Dekalb Market
332 Flatbush Ave Ext
Brooklyn, NY 11201
Getting There: N, R To Jay Street – MetroTech
Brooklyn's culture of commerce never ceases to amaze. Its growth in the past five years has been rapid, giving many new industries a place to thrive. Much of this is due to the emergence of a green-centric society. A prime example of this shift can be found in the newly opened Dekalb Market located in community of Downtown Brooklyn.
The market is located outside, but all of its shops are housed in reclaimed shipping containers. It goes to show you that materials once thought to serve only one purpose could be reused in an Eco-friendly manner. Many independent and some well established vendors fill these transformed shipping containers. Each fill a different niche for consumers looking for something other than items typically found at a big box store. At the Dekalb Market you can purchase hand crafted items from Dr. Softskin's- purveyors of the finest 100% natural body lotion candles. Yes, you read that right, candles made of body lotion. Are you listening ladies? And if you're hungry from all that shopping, head on over to the market's gigantic food tent area for a smorgasbord of local and organic fare. Once there you can grab a some "Sour Puss Pickles" or some larger eats from Maharlika, serving fine Filipino delights. And that's only a sneak peak of the options available at this innovative market. So head over, and find out for yourself!
Events at the Dekalb Market are already proving to be hugely popular. Earlier this month a "BK Night Bazaar" event was held drawing thousands, with lines around the block. If you did not make it don't worry, you will have another chance this coming weekend with Dekalb Market's Fall Fest. That's right all you fans of autumn, the market has several great tricks and treats up its sleeve.
Patrons of all ages will be able to take part in their first ever Halloween parade, pie bake-offs, campfire movies, a children's haunted house, and a bevy of creepy crafts for sale all market wide. And if that's not enough, the market's own BBOX radio will get everybody shaking their bones to Afrika21′s CMJ Showcase!
The Dekalb Market is a very welcome addition to a community in constant flux. Instead of knocking down a building, the market's creators have reclaimed a space that was once an eye sore, transforming it into a fun, green, and most importantly- cool shopping experience.
- Jay Rubin
Related Articles
Share
About Author
(0) Readers Comments