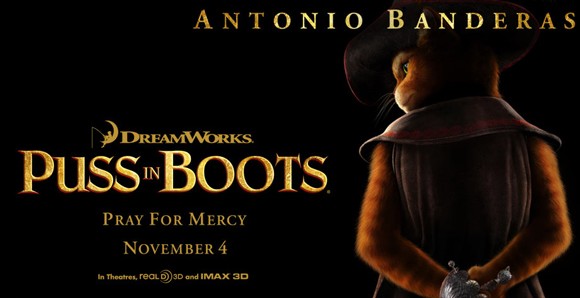 Polarizing and popular as animated films seem to be, Dreamworks proved with the Shrek franchise that cartoons, if casted properly and with just enough crude humor to sail right over the heads of the little kiddies rushing out to see it, and with enough to appease parents being dragged there, that these films can succeed in reaching broader audiences. And so in that same vein comes the studio's latest offering, "Puss in Boots" (PG), released Friday, October 28th.
After debuting in 2004's Shrek 2 and reprising the role in the series' two films that followed, Antonio Banderas returns to voice the adorable cat with the deep, accented voice in a prequel which explains the the evolution of Puss In Boots. Helped by Salma Hayek (Kitty Softpaws) and Zach Galifianakis (Humpty Dumpty), Puss in Boots is tasked with conspiring to steal some magic beans from two misers- Jack and Jill (played by the grizzled Billy Bob Thornton and Amy Sedaris respectively), which will enable the trio to climb a giant beanstalk and steal a literal golden goose and with it, the golden eggs it produces. But once Puss In Boots realizes that the plan is more than meets the eye and that perhaps not everyone is who they claimed to be, the feline is forced to make a choice that will alter the destiny of his family and hometown forever.
As an adult of age, our prevailing thought prior to seeing this film was skeptical at best- that is until you remember how enjoyable it was watching Shrek for the first time. Puss In Boots delivers seamlessly on the same level. The dialogue was both heartwarming, and at some points, laugh out loud funny- both kids and adults alike rang out in our screening- the impromptu dance off scene between Softpaws and Puss in Boots was particularly amusing. Galifianakis was especially entertaining as the not entirely trustworthy friend of the cat's- his expressions and intonations managed to keep us on our toes throughout the quick 90 minutes, wondering if he could be fully relied upon. But it should also be noted how incredible the iMax experience for this film proved to be- from the incredible visuals to the stimulating music that only further added to an already captivating story. If you plan on seeing "Puss In Boots," and we simply cannot give it any higher level of praise, it is imperative that you do so in 3D.
Most animated films are clearly not for everyone, but "Puss In Boots" is that rare exception that bridges any generational or genre gap. Equipped with a celebrity cast, fantastic 3D effects, well written dialogue, and a story that holds your interest, "Puss In Boots" is just as 'purr-fect ' for adults as it is for kids.
Puss In Boots is rated PG, starring Antonio Banderas, Salma Hayek, Zach Galifianakis, Billy Bob Thornton, and Amy Sedaris, has a runtime of 90 minutes, and is released in theaters everywhere this Friday, October, 28th.
- Jane Van Arsdale
Related Articles
Share
About Author
(0) Readers Comments