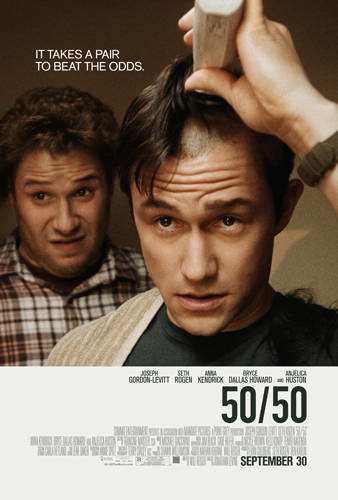 The name "50/50″ not only describes the film's title, but also the divided emotions that viewers will battle while watching it, evenly divided between half comedic elements and half melancholy ones. As a 27 year old radio producer in Seattle, Adam (Joseph Gordon-Levitt) seemingly has his life together- decent, full time employment, his own place, and a beautiful girl on his arm (the suddenly stunning Bryce Dallas Howard as Rachael). When some minor back soreness is incredulously diagnosed as a rare and serious form of cancer, Adam's entire life begins to fall apart, forcing him to rely upon friends and family for help- something he is rarely accustomed to doing.
Just as his brilliance showed as the victim of heartbreak in "500 Days of Summer," Levitt is truly at his finest as the humbled everyman. His fallibility a rousing characteristic, both relatable and root-worthy, a constant victim of sympathy while his virtual innocence and subsequent determination is inspiring. His surrounding cast performs just as exceptionally here- Anjelica Huston plays the overprotective mother so believably that you want to shout at the screen so that she'll give it a rest; Anna Kendrick, the naïve young doctorate candidate plays his appointed social worker, showing a greater interest in the cancer stricken man than the traditionally conservative doctor-patient relationship would imply; the aforementioned Howard, who continues to look more like a leading lady film by film, and whose beauty has become almost breathtaking, and Seth Rogen- the lovable, goofball best friend who brings out perhaps the most poignant and tender scenes of the film (also the wildly funniest), and who without, "50/50″ would suffer greatly. In fact, it should be noted that here, Rogen does what he does best- breaks up the emotional, poignant moments with belly-laughing insight that would sound peculiar being delivered by any other actor. Perfectly casted as the selfish yet supportive friend, he straddles the fine line between compassion and optimism, often going out of his way to keep Levitt thinking positively, while being a distraction in his own right.
But the film also has some tender moments- a mother rendered helpless by a husband stricken with Alzheimer's disease and the ensuing panic in learning about her son's affliction, while Levitt himself realizes he's battling a disease head-on, watching as the cancer affects the people that care about him more than he truly knows. Also, the uncertainty surrounding the success of Levitt's treatment makes the film's unpredictable conclusion incredibly suspenseful.
With so many films peddled out by Hollywood studios every year, it can sometimes be difficult to weed out the useless to find an all around solid film that works on so many different levels, which is where "50/50" ultimately lies. It's an inconceivable yet relatable premise because of the aura of invincibility that seems to render each of us as untouchable. That is, until life throws a curveball like this at us and we are forced to deal with circumstances previously thought to be unthinkable.
50/50 is rated R, starring Joseph Gordon-Levitt, Seth Rogen, Anna Kendrick, Anjelica Huston, and Bryce Dallas Howard, has a runtime of 99 minutes, and is released in theaters everywhere this Friday, September, 30th.
- Jane Van Arsdale
Related Articles
Share
About Author
(1) Reader Comment