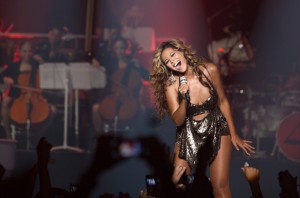 Looking for last minute, off-the-cuff weekend plans? LocalBozo.com has got you covered. It's not too late to figure it all out. For a glimpse of upcoming events that we'll be covering, check out the calendar in our side bar to your right. Otherwise, here are a few highlights to check out in and around Manhattan this weekend!
Arts & Culture
Saturday, August 27th- Before Hurricane Irene hits, head on over to Union Square Park for a free 90-minute walking tour called Union Square: Crossroads of New York. The tour explores the social and political history of the Union Square neighborhood through discussions of the people, history, architecture, and forces that have shaped this community. You'll hear how Union Square got its name. (Union Square Walking Tour)
Saturday, August 27th- Take away the massive sets, Spiderman, and the millions of dollars it takes to produce an original musical, add 8 talented improvisers, and what do you get? The Improvised Musical presented by Dumpster Tequila. Its only five bucks, and that's a small price to pay for a ton of laughs. (Dumpster Tequila)
Sports
Saturday, August 27th – The Giants-Jets preseason game is an annual rite of passage. Due to the hurricane, the game has moved to a 2pm start at the newly dubbed MetLife stadium. Sanchez and Eli. Bradshaw and Greene. Nicks and Holmes. Heck of a game. Try and stay dry. (Jets-Giants Tickets)
Sunday, August 28th – The Brighton Neighborhood Association and New York Arm Wrestling Association have joined forces to present the White Castle 29th Annual Brooklyn-Kingsboro Arm Wrestling Championships at the Brighton Jubilee Festival. More than 100 men and women will compete for the prestigious Brooklyn-Kingsboro Golden Arm Wrestling Championship titles. We personally couldn't think of a better way to spend Sunday, tasty griddled sliders, and loads of over-the-top arm rasslin action! Oh did we forget to mention this is free! (NYC Arms)
Music & Entertainment
Friday, August 26th- Movie release day. Quiet night tonight? Check out these releases coming out today- "Our Idiot Brother" (R) starring Paul Rudd as a recently released from prison pot dealer, with Elizabeth Banks, Zooey Deschanel, and Emily Mortimer. Also, Zoe Saldana stars in "Colombiana" (PG-13), as a young woman grows up a dangerous assassin to avenge her parents deaths. Finally, Guy Pearce and Katie Holmes star in "Don't Be Afraid of the Dark," rated R for "violence and terror." Don't blame us if you hate them all.
Friday, August 26th- Sunday, August 28th- A ton of live music happening this weekend. Tonight, hit The Gramercy Theatre and check out our buddies from The Damned Things (members of Fall Out Boy, Every Time I Die, and Anthrax). (The Damned Tickets). A Tribe Called Quest's Q-Tip hosts a Michael Jackson tribute tomorrow night at Irving Plaza. (Q-Tip Tickets) Also, the Dave Matthews Band Caravan will be rocking Governor's Island all weekend with a live set every night and a ton of support acts. (DMB Caravan Tickets) Finally, the 2011 Afropunk Festival featuring headlining sets from Santigold, Das Racist, Cee Lo Green and more happens tomorrow and Sunday in Brooklyn at Commodore Barry Park. (Afro-Punk Festival 2011 Tickets) It's free, so check it out before you get washed out!
Nightlife
Friday, August 26th- Saturday, August 27th- Chelsea Manor hosts Sexy Society Fridays from 10-4am with DJ Youngant. Ladies are free until 12:30. Tomorrow, it's Junior's Birthday! Junior Vasquez with opener Samantha Ronson hit up District 36 with help from Razor and Guido. Also, Taj II hosts the End of Summer party with DJ Getlive. Dancing included, but as always- Blowouts are optional!
 Other
Saturday, August 27th- Spike Lee, 40 Acres and a Mule invite you to celebrate the birthday of, "The King Of Pop" Michael Jackson with a special celebration in Prospect Park. The event is free, but if past years are any indication the park will be mobbed especially since the untimely death of Jackson. (Michael Jackson's Birthday Party)
Related Articles
Share
About Author
(0) Readers Comments