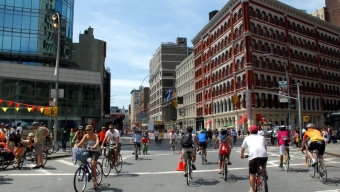 Looking for last minute, off-the-cuff weekend plans? LocalBozo.com has got you covered. It's not too late to figure it all out. For a glimpse of upcoming events that we'll be covering, check out the calendar in our side bar to your right. Otherwise, here are a few highlights to check out in and around Manhattan this weekend!
Arts & Culture
Saturday, August 6th – Calling all Bicycle Riders! Time to paint on those tight bike shorts and you don't even need to leave Manhattan. Summer Streets are back for a 3 week run this month. Park Avenue will be car free from 7am-1pm for biking enthusiasts to get out and ride! More information at the official site along with route information and more!(Summer Streets)
Saturday, August 6th- "I cannot go to school today," said little Peggy Ann McKay. The Central Park SummerStage (72nd and Fifth Ave) host Shelebration! A tribute to poet and literary icon, Shel Silverstein. Join rocker Lou Reed, Martha Wainwright, Laurie Anderson, and Mario Van Peeples, to name a few at Central Park for a free event tomorrow afternoon. (Shelebration!)
Sports
Friday, August 5th – Sunday, August 7th- Head out to Flushing this weekend as the Mets host their NL East rivals, the Atlanta Braves in a 3 game set. The Braves are heading toward a playoff push, while the Amazins would love nothing more than to keep them from making them.(Mets Tickets)
Friday, August 5th; Sunday, August 7th- Twice this weekend you can catch some of the stars of tomorrow as the Staten Island Yankees host the Brooklyn Cyclones (Mets) tonight and on Sunday afternoon. Enjoy a day at the beautiful park with some kids who play because they love the game.(Staten Island Yankees Tickets)
Music & Entertainment
Friday, August 5th- Movie release day. Quiet night tonight? Check out some releases coming out today- The 80's are back with "The Change-Up" (R) starring Ryan Reynolds and Jason Bateman as two guys who switch lives whilst urinating in a public fountain. Gonna be Francis Ford Coppola's best work…Also, "Rise of the Planet of the Apes" (PG-13) starring James Franco, who managed to bang this film out when he's not painting, acting on General Hospital, taking classes at Columbia, and trying to rule the world. And Frieda Pinto. Don't blame us if you hate them both.
Friday, August 5th- Sunday, August 7th- Big weekend for concerts in and around Manhattan. Tonight, catch pop icon Britney Spears with Nicki Minaj and Joe Jonas across the river at the Izod Center. (Britney Spears Tickets) Tomorrow, join LocalBozo.com at the Bowery Ballroom for a performance by Cold Cave with support from Austra and Cult of Youth. Tickets for this one are just $18. (Cold Cave Tickets) Or head out to Jones Beach on Saturday and Sunday for the Honda Civic Tour featuring Blink 182 and My Chemical Romance. The views on the water are amazing for a show, and this one should prove to bring the house down both nights. (Honda Civic Tour Tickets).
Saturday, August 6th – Sunday, August 7th- For something a little bit different head on down to Alphabet City from 1-7pm to commemorate the anniversary of the infamous 6 hour riot inside and outside of Tompkins Square Park on August 6, 1988. These shows celebrate the vitality of the counter cultural scene that has survived on the Lower East Side. featuring civil rights attorney Norman Deigel, Investigative reporter Dan Shechter and a bunch of political activists. Bands performing include: Nihilistics, Hammerbrain, Day Care Swindlers, Wombat in Combat,Dog That Bites Everyone,Alienz,Polemic Shock,Bambi Killers,Triangle Fire, David Peel, Trace The Veins, The Purple Hearts, Transgendered Jesus.
Nightlife
Friday, August 6th- Saturday, August 7th- Stop by Public Assembly in Williamsburg after 10pm tonight and catch DJ Spinoza. They've got a house and techno throw down with Speedy J in the back room and Fred P and Bruce Bailey up front. Price is to be determined, but the space is great. Also, tomorrow night, Phuket Lounge hosts "The Only Party That Matters" with DJ M.O.S and DJ Ric-Roc with ladies free before midnight. Dancing included. Blowouts optional.
Other
Saturday, August 7th- Finger on the Pulse & City Winery are proud to present the first annual Summer BBQ Blow Out Festival, a BBQ block party and concert not to be missed! Top chefs have been tasked to create a unique dish for the event, inspired by BBQ and their culinary influences.(Summer BBQ Blow Out Festival)
Sunday, August 7th- Here's something new- Williamsburg's Huckleberry Bar is hosting "Some Like It Cold," a chilled soup cook-off in Brooklyn. There will be over a dozen different flavors to savor served alongside some free Plymouth gin cocktails. All the proceeds are given to Claque- a community theater troupe. While it's hot outside, cool off with some….er….soup? (Some Like It Cold)
- Jane Van Arsdale & Alan Smithee
Related Articles
Share
About Author
(1) Reader Comment