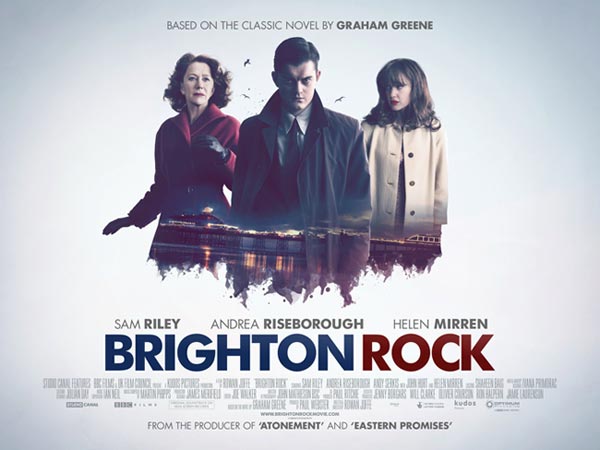 Brighton Rock is an adaptation of Graham Greene's classic novel about a small-town hood who marries a waitress who witnessed him murdering a rival thug in order to keep her quiet. As his gang begins to doubt his abilities, the man becomes more desperate and violent. The film stars Sam Riley, Andrea Riseborough, Andy Serkis, John Hurt, and Helen Mirren.
The idea of a crime drama with elements of the mobster culture, is something film audiences have embraced for decades. But for a film to succeed in meshing those genres, all of the stars need to align. Unfortunately, this cannot be said for 2011′s Brighton Rock. The film is based off of a classic 1930′s crime novel and has been a reprise of the original film from 1947, starring Richard Attenborough.
Sam Riley plays the title character of Pinkie Brown, a small time hood trying to make a name for himself in the seedy underbelly of a British crime syndicate. But unlike his predecessors in the world of the mob film, it was near impossible to support the villainous character. In fact, we found ourselves indifferent towards him. Even the most evil characters in such films as Goodfellas and The Godfather are loved by many for the simple fact their motives could be justified.
It could be said that Riley's performance was somewhat wooden, but most of the blame has to be placed on a script that under-develops the character, placing him in a series of hodgepodged scenes that simply feel rushed, leaving us to collectively scratch our heads. It is true that the audience is thrown the proverbial red meat, with moments of ultra-violence included, but this ultimately does not help to improve the quality of the narrative.
The impressive supporting cast, while it may look good on a poster, does nothing to improve the quality of Brighton Rock. Veteran actors Helen Mirren and John Hurt have wowed the cinema going public for generations, but in this film they feel underused and sadly out of place. Both appear to be used as pawns, helping to simply move plot points along. Andrea Riseborough plays the role of Pinkie Brown's love interest Rose. It must be said that Riseborough delivers one of the better performances as a young waitress caught between two worlds not knowing who to trust.
One aspect that the 2011 version of Brighton Rock has going for it was the shooting locations. The film was shot entirely in Brighton, East Sussex, England. This was a masterful way to recreate the British resort town feel of 1964. And in keeping with the darker mobster themes, several of the sets were dressed down to look authentic and gritty. These backdrops became the one piece of eye candy that kept us engaged with the film to the very end.
Another enjoyable highlight of 'Rock' is what's occurring in the film's background. During the early 1960′s, Mod culture (old word for hipsters) was everywhere in Great Britain, and many of those youths revolted against the powers that be. Throughout the film, several pivotal scenes use these events as a backdrop, which become well-suited to educate the viewer as to what was transpiring in that part of the world, at this particular time.
Brighton Rock proves that all crime dramas are not created equal. In the end, the plot resolution did nothing to save the film and satisfy an audience who were hoping for so much more, nor did the impressive supporting cast succeed in pulling a rabbit out of their hats for this one. The cinematographer and location scout deserve much of the credit for this picture, as they created a beautiful yet gritty landscape.
Brighton Rock is not-rated, starring Sam Riley, Andrea Riseborough, and Helen Mirren, has a runtime of 111 minutes, and is released in theaters this Friday, August 26th.
- Jayson Rubin
Related Articles
Share
About Author
(1) Reader Comment