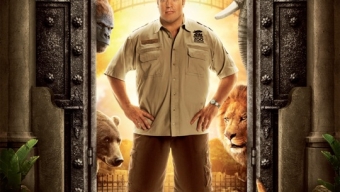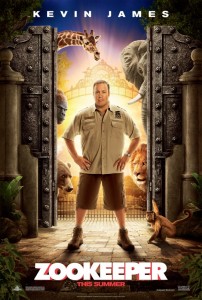 The idea of animals and humans conversing on film is not necessarily a novel one. But time and time again, the very concept has proven extraordinarily successful at the box office. Perhaps it is our intrinsic desire to want these animals to understand and reciprocate the feelings that we have toward them or perhaps, at its most basic level, we are simply amused by the idea of a monkey that can speak to us, understanding our very surroundings better than we do. Whatever the reason, add the infinitely likable Kevin James to the aforementioned proven concept and we have "Zookeeper" (PG), opening Friday.
In a film that doesn't stray all that far from what you would expect based on the trailers alone, James stars as Griffin Keyes, a lovable doofus that works in Boston's Franklin Park Zoo. Five years have passed since Keyes was unceremoniously dumped by his girlfriend Stephanie (Leslie Bibb), discontent with his occupation and subsequent failure to live up to the potential she sees in him. Just as it seems Keyes finds himself at ease and his life at peace, Stephanie re-emerges and Keyes contemplates leaving the zoo altogether in a bid to get her back. That's where the animals step in, revealing that they can speak, and conspire to help him get the girl back. And that's where the plot takes a baffling turn.
It's unclear as to why Keyes is so interested in re-igniting a relationship with the girl that dumped him so callously or why the group of zoo animals would help him plan to do so, when the biggest obstacle is the fact that Keyes works at the zoo in the first place. It's similarly unclear as to why Keyes would ignore the palpable chemistry he has with the beautiful veterinarian, Kate (Rosario Dawson) that he already works with. But the questions I pose potentially delve deeper than the filmmakers intended. After all, this is a PG movie, built for children.
Although some of the subtle humor will likely be over their heads, children should truly enjoy this movie. The film is chock full of the hard falls and hijinks that James accentuates so well and the talking animals share some genuinely funny dialogue with each other. Voiced by a who's who of A-listers, from Sylvester Stallone and Cher as the lion and lioness power couple to Jon Favreau and Faizon Love as dueling black bears, the standout performances belong to Adam Sandler (Donald the monkey) and Nick Nolte (Bernie the Gorilla), including a laugh out loud scene where Keyes and the gorilla enjoy a wild visit to T.G.I.Fridays.
The 104 minute film manages to meet expectations, employing enough comedic antics to appease adults and children alike and serves to purposefully highlight the indefinable charisma and likability of James, regardless of circumstance. His everyman character always seems to work best when those around him are so obviously flawed. It worked (commercially, not critically) for "Paul Blart: Mall Cop" under the same conditions. But "Zookeeper" falls flat with a storyline that is flimsy and predictable, leaving viewers with more rational questions than answers. Maybe we expected too much from a PG movie about a man that interacts with animals. Ultimately, "Zookeeper" will likely make a killing at the box office, and decently entertaining as it was, it is recommended you wait for the DVD and watch with your family.
- Jane Van Arsdale
Related Articles
Share
About Author
(2) Readers Comments