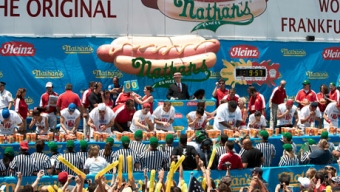 Looking for last minute, off-the-cuff weekend plans? LocalBozo.com has got you covered. It's not too late to figure it all out. For a glimpse of upcoming events that we'll be covering, check out the calendar in our side bar to your right. Otherwise, here are a few highlights to check out in and around Manhattan this weekend!
Arts & Culture
Friday, July 1st- Monday, July 4th- It's the Fourth of July weekend and if you're hanging out in the city this weekend, there's no shortage of things to do. Switch it up a bit and check out the 40th Annual International African Arts Festival in Brooklyn at Commodore Barry Park. Celebrate four days of art, dance, music and so much more. And bring the kiddies for some storytelling too. (African Arts Festival)
Monday, July 4th- You can't live in New York and not take in the Macy's 4th of July Fireworks spectacular. Over 40,000 explosives launched from six massive barges will be catapulted into illumination in the year's biggest fireworks extravaganza. While the rest of the country will watch on TV, you can still make it in person, with performances by Beyonce and Brad Paisley, with an evening hosted by Nick Lachey. Let us show you where to watch. (Macy's Fireworks Spectacular)
Sports
Friday, July 1- Tonight, catch all of the superstars of TNA Wrestling as they present BaseBrawl in Brooklyn, New York at MCU Park. With each ticket purchased, fans receive a ticket to an upcoming Brooklyn Cyclones game and are treated to a post-show fireworks show. Superstars appearing include "Nature Boy" Ric Flair, Kurt Angle, Rob Van Dam, AJ Styles, Team 3-D, Jeff Jarrett, and so much more. It's outdoors and local, and it's professional wrestling! (Impact Wrestling in Brooklyn)
Friday, July 1- Sunday, July 3- The Subway Series returns to Flushing, Queens this weekend as the Mets host the Bronx Bummers in the battle for Back Page supremacy. The Mets offense looks renewed. The Yanks are in first place. Niese-Nova tonight, Colon-Dillon Saturday, and Dickey-Garcia Sunday. The pitching might not be great, but the games sure will be. (Subway Series Tickets)
Music & Entertainment
Friday, July 1- Movie release day. Quiet night tonight? Check out some releases coming out today- "Transformers: Dark of the Moon" (PG-13) opened on Wednesday in IMAX 3-D, starring Shia LeBeouf and Rosie Huntington-Whiteley (Megan who?), with Josh Duhamel. Michael Bay rarely disappoints with holiday thrillers, even if you're cheering for the Decepticons. Less explosive is the Tom Hanks, Julia Roberts vehicle "Larry Crowne" (PG-13) opening tonight as an unemployed Hanks must return to college to resurrect his career. Don't blame us if you hate both.
Friday, July 1- You love him on NBC's "Parks & Recreation" and "Human Giant." Now is your chance to see him live at one of Manhattan's premiere stand up clubs, The Comedy Cellar as Aziz Ansari comes to town at 9:45 or 11:30pm tonight. The Comedy Cellar is the place where headlining comics go to test out new material, so you could be on the ground floor for some funny new stuff. Most shows require an admission fee plus a two drink minimum. (Aziz Ansari Tickets)
Friday, July 1- Monday, July 4- The Dance.Here.Now.Festival takes on Governor's Island this weekend with a four day festival of beats. DJ sets carry on all weekend with Paul Van Dyk spinning tonight for an astounding 6 hours, Fatboy Slim, Benny Benassi, and Victor Calderone headlining each of the 4 nights with a plethora of other artists spinning as support acts. (Aziz Dance.Here.Now.Festival.)
Nightlife
Friday, July 1- Sunday, July 3- Club it up Independence Day Weekend all weekend long. Tonight, the Alphabet Lounge hosts "Fabulous Fridays" with DJ Uch spinning 80's and 90's dance with a ton of specials and deals for big groups. Get there before 11:30 for buy 2 get 1 frees, $3 domestics, $4 house shots and more! Tomorrow, hit up a rooftop for Caffe Bar in the Maritime Hotel from 11am to 9pm for DJ Peate Suzuki with half-open air and a retractable roof for rainy days. Grillin and music in the summertime on a roof! Sunday, hit up Lavo for the "F**k the Hamptons Bikini Brunch." From 2-7pm, bikini clad waitresses and guests parade around sipping on champagne and nibbling on eats. Dancing included. Blowouts optional.
Monday, July 4- Celebrate the 4th Hip Hop style! Run DMC's Rev Run will host and MC the fireworks with DJ Mel De Barge at Hudson's Sky Terrace. General Admission Tickets are $125 which includes a three hour open bar and passed BBQ bites. Call 212-554-6000 for tickets. (Rev Run at Hudson's Sky Terrace)
Other
Sunday, July 3- Brooklyn's own The Bell House screams Americana. America: F*ck Yeah! starts at 8pm and the huge venue will be transformed into a red, white and blue paradise. The Outer Borough Brass Band will play Dixieland tunes to pump up the crowd, while dogs and burgers will be cooked up on the grill. Patrons will have the chance to win a round of drinks if you show the host (who you'll recognize by the Superman costume) your patriotic underwear. (America: F*ck Yeah!)
Sunday, July 3- Tomorrow, the Village Pourhouse downtown will host a special crawfish boil. For just $40.00, each guest will be treated to a feast of two baskets of crawfish, unlimited southern chicken sliders, potato salad, corn on the cob and other sides. In addition, there will be a Bud Light and Abita open bar from 6:00 p.m. – 8:00 p.m. To purchase tickets visit:(Pourhouse Crawfish Boil)
Monday, July 4- What kind of a holiday weekend would it be for you NOT to head down to Nathan's in Coney Island for the Fourth of July Hot Dog Eating Contest. Ten straight minutes of consumption and turning guys like Joey Chestnut into household names? Sign us up! Have a happy, safe weekend everyone!
- Jane Van Arsdale & Alan Smithee
Related Articles
Share
About Author
(0) Readers Comments