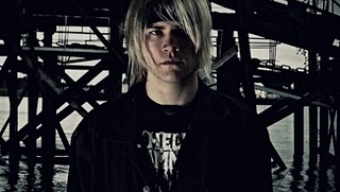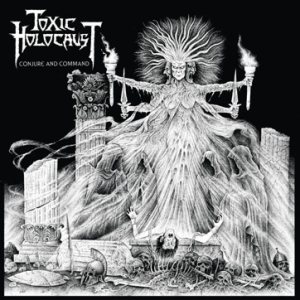 Today, July 19th Relapse Records unleashes the fourth studio album from Portland thrashers, Toxic Holocaust. The new album, "Conjure And Command" finds Grind backed by a full band for the first time. Previous efforts featured Grind as a jack-of-all-trades, playing every instrument. With the permanent addition of Phil Zeller on Bass, and Nick Bellmore on Drums, Holocaust is able to become a cohesive unit. The new album shows off this musical unity in bold ways. Much like its predecessor, "An Overdose Of Death," the new album kicks listeners in the ass with the first track.
"Judgement Awaits You," shows you they mean business, as it opens up with a feast of pure shredding. It is a full band onslaught, with crushing drums, and stone cold bass grooves. This aint no thirty second intro, and it really helps to define the album.
"The Liars Are Burning" is a seriously heavy track, and may be my favorite of the entire album. Between the blistering riffs, killer solo, and Joel's menacing growl you have a real winner here.
I truly feel this album will break, Toxic Holocaust into the greater lexicon of the metal community. A few months ago the label released the songs, "Bitch", and "Nowhere To Run" onto the web. Both of these tracks have the type of thrash metal song structure that fans gravitate to, and have been craving for over a decade. Messages boards all over the Net have lit up with positive feedback upon their release. The album from top to bottom contains no filler. Once you run through it the first time, you will put your Ipod on repeat listening to nothing else. The fact is, Toxic Holocaust is true blue with not an ounce of bullshit.
LocalBozo.com Rating: 10/10  
Must Hear Tracks: Bitch, Nowhere To Run, The Liars Are Burning
LocalBozo.com was lucky to get a few minutes with Toxic Holocaust mastermind, Joel Grind. During our time with Joel, we touched on topics ranging from the power of Twitter for bands, his influences, and his favorite acts to tour with. Joel's a great guy, and a brilliant musician and we were thrilled to speak with him. Toxic Holocaust will be on tour all summer long. The band will be making a major stop in Brooklyn, NY on August 19th when they play Club Europa. This show will be out of control, and is guaranteed to melt faces. They are sure to rip through set of their classic's as well as many tracks off, "Conjure And Command."  The tour, and the new album will prove to heavy metal fans, why Toxic Holocaust is one of the best thrash bands working today.
- Jayson Rubin
Related Articles
Share
About Author
(1) Reader Comment