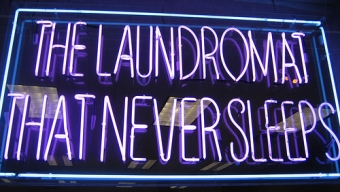 Looking for last minute, off-the-cuff weekend plans? It's not too late to figure it all out. For a glimpse of upcoming events that we'll be covering, check out the calendar in our side bar to your right. Otherwise, here are a few highlights to check out in and around Manhattan this weekend!
Arts & Culture
Friday, June 17 – Saturday, June 18th Sunshine at Midnight- Sunshine Landmark Cinema – King of New York – Head over to the Sunshine Landmark Cinema at midnight this Friday and Saturday to see Christopher Walken as the iconic drug dealer, Frank White, in Abel Ferrara's New York crime classic 'King of New York.' Tickets are only $10.
Sports
Friday, June 17- Sunday, June 19. The New York Mets are a team who are constantly trying to define themselves. Every year their die-hard fans say, 'This is the year!' We will see if that's the case. Starting tonight, you can catch the Mets at Citi Field during their three game home stand with the LA Angels. Hey, at least they have a Shake Shack in the stadium. (NY Mets Tickets)
Music & Entertainment
Friday, June 17- Movie release day. Quiet night tonight? Check out some releases coming out today- It's a huge weekend for movies. Comic book fans can unite behind Ryan Reynolds as the "Green Lantern" (PG-13). Will he get the girl (Blake Lively) or be defeated by the villain (Peter Sarsgaard? And if you haven't seen enough of the ads, Jim Carrey's "Mr. Popper's Penguins" (PG) opens today as he inherits 6 penguins and tries to manage his personal and professional life. If you're looking for something different, check out the adorable teen love story "The Art of Getting By" (PG-13) with Freddie Highmore and Emma Roberts, a pessimistic teen may or may not fall in love. Don't blame us if you hate them all.
Friday, June 17th – Sunday, June 19th – Mario Cantone at Carolines on Broadway. Mario Cantone, the legendary, high energy comedian returns to Carolines on Broadway this weekend for a special engagement. Cantone has been all over television, movies, and the Broadway stage for over twenty years. His frequent appearances on 'Sex and the City' have made him a household name. But it is his stand up which truly shows off his brilliant timing and impersonations. At a moment's notice Cantone can go from a full on Brooklyn Gumba, to a spot on impression of Liza Minnelli. Cantone will be performing at Carolines all weekend, with tickets costing right around forty dollars.

Friday, June 17th 8pm – Dispatch at Terminal 5. If you attended college in the early 2000′s you are well aware of the American jam band, Dispatch. Tracks like, 'The General,'could be heard in every dorm room during intense beer pong matches. The band has broken up and reunited throughout the decade. They have since regrouped and are now back as a full unit and embarking on a nation wide tour. Yes, it is true that tonight's Terminal 5 show has been sold out for sometime. But, if your a fan we advise you to head up there and hold one finger up. Hey, you might get a miracle.

Nightlife
Friday, June 17th, 2011 – Dirty Disco Laundrette 10:30p – 4am – Williamsburg, Brooklyn. An ordinary laundromat, will be secretly transformed into one of the wildest and most visually stunning parties the city has seen since the golden age of disco. Guest Of A Guest, will be giving away two tickets to the Dirty Disco Laundrette Party tonight, so head over and try your luck. Each ticket is a $152 value!

Other
Saturday, June 18th – Total Smith St. Immersion 12pm – 6pm – Carroll Gardens, Brooklyn – The weather is supposed to be fantastic on Saturday. So, why not head over to the Carroll Gardens section of Brooklyn for, Total Smith St. Immersion. 'Total Smith St,' is a roving bar, shop and restaurant crawl, where from 12 to 6, you can sample four styles of complimentary Brooklyn Brewery beer at 61 Local, Angry Wade's, Bar Great Harry, and Gowanus Yacht Club. Shopping deals can also be found at shops like Bird, Home & Haven, Refinery, and Flight 001. There are over 20 participants in all, and to get specials at each, pick up one of the 500 free immersion cards starting at noon at By Brooklyn (261 Smith St.) or Brooklyn Tattoo/Urban Folk Art Gallery (99 Smith St.)
-Alan Smithee
Related Articles
Share
About Author
(0) Readers Comments