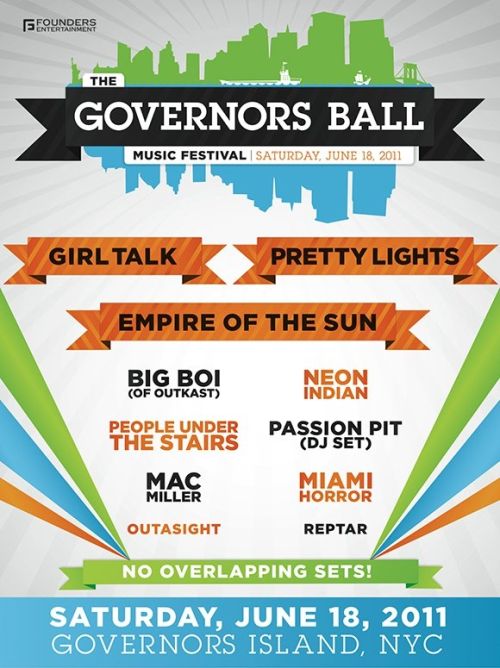 On Saturday June 18th, the picturesque Governors Island plays host to one of the most hotly anticipated events of the summer, The Governors Ball Music Festival. The day long extravaganza features live performances from some of the biggest musical acts to come through Manhattan, along with a multitude of other happenings for the more casual concertgoer or any New Yorker looking to enjoy a nice day outside. This year's packed lineup includes Girl Talk, Pretty Lights, Outkast's Big Boi, and Empire of the Sun, to name a few. Regular tickets ($95) and VIP tickets ($150) are still available but they won't last. Make sure to pick yours up now.
LocalBozo.com was fortunate enough to sit down with promoter Jordan Wolowitz of Founders Entertainment for brief Q & A session about why Governor's Island was an ideal venue to host the Festival, selecting the lineup of artists for the event, and what we can expect from this year's Music Festival.
LocalBozo.com: How did the Governor's Ball Music Festival initially come to fruition?
Jordan Wolowitz: New York City is the greatest city in the world, yet for some reason it was lacking a marquee summer music festival. We knew about Governors Island, and thought that South Island Field (where Gov Ball is taking place) was a perfect location for a large scale music event. It's outdoors, and set on a picturesque island with a breathtaking view of Manhattan. The location is also beyond ideal – the ferries leave from downtown Manhattan, which is accessible from almost any subway line, and the ferry ride to the island only takes about 4 minutes. We knew people in and around New York City would love the concept of a mid-summer dance party featuring A-list musical talent, as well as art installations, local food and wine vendors, comedians, etc.
LocalBozo.com: Talk about how the lineup for this year's show was selected.
JW: We wanted to book the best acts around in the dance, indie, rock, electronica, and hip hop scenes. The lineup for Gov Ball is certainly diverse, but there was one real guiding force behind the booking- the common theme is that we wanted to book acts that make people dance and have a good time. Plain and simple. We want this to be the biggest party to hit New York City all summer. Pretty Lights and Girl Talk are simply two of the hottest acts in music today. Empire of the Sun are international superstars. Big Boi is a hip hop legend, and the rest of the acts represent the best young talent around.
LocalBozo.com: How will the show be run- the website boasts no overlapping sets, so will fans be able to see every minute of each artist?
JW: That is correct; there will be no overlapping sets. Fans will be able to see each and every second of each artist's set. The music kicks off at 12:00pm and does not stop until midnight. There will be two stages and the acts will be rotating on each one.
LocalBozo.com: What extra activities are planned for this year's show?
JW: There will be a variety of activities at the festival- basketball, ping pong, beach volleyball, beer pong, and unique art installations will all be there for fans to enjoy. In addition, there will be a plethora of local food vendors, wineries and merchants for fans to explore.
LocalBozo.com: Why Governors Island as the venue- what about it lends itself to host a show with this kind of flexibility?
JW: I alluded to this briefly before, but Governors Island is simply the best venue to host a festival of this type in New York City. Its capacity (25k) is ideal. The setting is unique and gorgeous. It is easy to get to. The venue itself is on a large flat, lush, grass field that will allow us, as producers, to build the festival to our exact specifications. It doesn't get any better than Governors Island. I dare ya to tell me a better way to spend a Saturday this summer! We couldn't be more excited.
Neither could we. For more information on everything you need to know about the 2011 Governors Ball Music Festival, check out The Governors Ball Music Festival.
- Jane Van Arsdale
Related Articles
Share
About Author
(2) Readers Comments