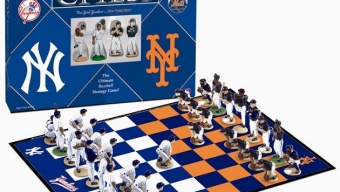 Looking for last minute, off-the-cuff weekend plans? It's not too late to figure it all out. Here are a few highlights to check out in and around Manhattan this weekend!
Arts & Culture
Saturday, May 21- Sunday, August 21- It's spring time so head out to the New York Botanical Garden and take in the sights and smells of the season. The Garden is recreating the Gardens of Alhambra while some Spanish fare and music sets the mood at the Haupt Conservatory. Debate the merits of The Moors versus The Moops at this Spanish Paradise on 200th Street. (New York Botantical Garden)
Saturday, May 21- Sunday, May 22- Leash up your dogs and cats and head over to West 18th Street for the second annual NYC Pet Show. From 12-5pm, the urban pet enthusiast will be treated to over 75 exhibitors with luxury products and services as well as a multitude of activities, seminars, and panel discussions. Tickets are $20 in advance, but $25 at the door so scoop em up beforehand so you don't get stuck in the doghouse. Terrible pun. (The NYC Pet Show)
Sports
Friday, May 20- Sunday, May 22- Worlds are colliding as interleague play begins in Major League Baseball. The Yankees host the Mets in the battle for New York for the first time this season. The night games begin tonight and tomorrow night at 7:05pm before giving way to a 1:05pm start on Sunday. Will Jorge Posada be a Yankee come Monday? Say it ain't so! (Yankees-Mets Tickets)
Saturday, May 21- Catch all the action of the NHL playoffs tomorrow afternoon at 1:30pm as the Bruins and Lightning battle in the Conference Championships. You can throw down your gloves at any number of bars. We like The Wharf , the Village Pourhouse, or Blonde, Brunette, and a Redhead for some action this weekend.
Music & Entertainment
Friday, May 20- Movie release day. Quiet night tonight? Check out some releases coming out today- "Pirates of the Caribbean: On Stranger Tides" (PG-13) opens today with Penelope Cruz and Geoffrey Rush along for the ride with Johnny Depp's Captain Jack Sparrow. Also being shown in 3D. At least we know Michael Bolton is a fan. A light week for releases since this will likely pulverize Fast Five. Don't blame us if you hate it.
Friday, May 20- Holla atcha Boy! 92.3 NOW presents Jeremih, New Boyz, Mike Posner, Florida, and Jay Sean at the Hammerstein Ballroom tonight at 8pm. Tickets start at just $52 all in. (92.3 NOW Tickets) For a concert of a different kind, check out Irving Plaza tomorrow night as instrumentalists Apocalyptica come to town. With recent collaborations with Adam Gontier (Three Days Grace), Corey Taylor (Stone Sour), and Brent Smith (Shinedown), a $30 ticket gets you access to one of the most unique bands and best venues that exist today.(Apocalyptica Tickets)
Nightlife
Friday, May 20- A whole lot of crazies believe that tomorrow will be Judgment Day. Who are we to argue? But shouldn't we get one last chance to earn our way into heaven? Head over to the Upright Citizens Brigade Theatre for a very special Gong Show. Comedians, singers, magicians, weirdos and more will do everything they can to prove they deserve a spot in Paradise. Satisfy the judges and they're going to heaven! But get gonged and they're going straight to hell. Hosted by Anthony King with special guest judge Horatio Sanz. Oh, and there will be a special appearance by Satan. (UCB Theatre)
Saturday, May 21- Join Johnny Utah's for their Ho Down Throw Down tomorrow night with $4 buds, $5 Jack drinks and shots, and all the line dancing, bull riding, and bar top dancing you can handle, with no cover for anyone in western wear. Pregame with the celebration of the Judgment Day/End of the World Party at T.G. Whitney's on 53rd Street. From 8pm to Midnight, celebrate with $8 pitchers, $5 bombs, and $4 Smirnoffs. Plus a $25 2 hour open bar. Top Shelf.
Friday, May 20- Saturday, May 21- Get ready to club it up this weekend in NYC. Tonight, head over to Roseland as Armin Van Buuren has a special 4 hour extended set. The World's #1 DJ will be joined by Blake Jarrell for a special night of trance starting at 10pm. Tomorrow night, Santos Party House hosts Bootie NYC, an all-mashup dance party. Starting at 11pm with a minimal cover, catch DJ Lobster, Adrian & Mysterious D and free Bootie CD's to the first 100 guests! Blowouts optional.
Other
Friday, May 20 – Saturday, May 21- It's the New Taste of the Upper West Side! And it's gonna cost you. With tickets priced between $85-$200, the weekend features over 35 chefs on Friday at the Comfort Classic tasting, hosted by Man v. Food's Adam Richman and Dylan's Candy Bar's Dylan Lauren. Saturday, famous chefs from some of your favorite restaurants (A Voce, Jean Georges, Landmarc) will prepare dishes using all local ingredients, while a 16 piece orchestra plays in the background. If we didn't do the event justice in words here, check the actual site: (New Taste of the UWS)
Saturday, May 21- Bust Magazine hosts the "Craftacular and Food Fair" at 82 Mercer Street from 11am-8pm for 1 day only!. Over 100 vendors will be on hand for the makeshift market with a DJ busting out tunes while shoppers bounce around for housewares, jewelry, and a ton of eats. These markets happen around the city all spring and summer, so take advantage of them early and often. (Bust Craftacular)
- Jane Van Arsdale
Related Articles
Share
About Author
(0) Readers Comments