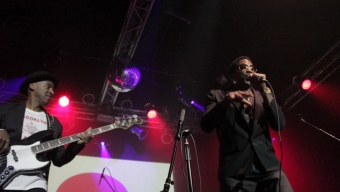 Looking for last minute, off-the-cuff weekend plans? It's not too late to figure it all out. For a glimpse of upcoming events that we'll be covering, check out the scrolling calendar in our side bar to your right. Otherwise, here are a few highlights to check out in and around Manhattan this weekend!
Arts & Culture
Thursday, May 12- Sunday, May 22- It's Bronx Week! Actually ten full days, but head uptown and celebrate the 40th annual celebration of the best of the Bronx. This weekend is packed with performances of Mozart's "Don Giovanni," free museum tours, concerts, and the First Annual Hip-Hop Block Party. (I Love The Bronx)
Saturday, May 14- Sunday, May 15- Head over to Ninth Avenue at some point this weekend for an International Food Festival. From 11am-5pm, local west side merchants will line the streets from 42nd Street to 57th Street to serve tastes from countries like Poland, Italy, Spain, Asia, and more. Experience food from Ember Room, Southern Hospitality, Stecchino, City Sandwich, and others. Admission is free, but the food will cost you minimally. (Ninth Avenue International Food Festival)
Sports
Friday, May 13- Sunday, May 15- Baseball's biggest rivalry takes center stage as the Boston Red Sox meet the Yankees in the Bronx. Celebrate Bronx Week in style as the bleacher fights and boozehounds will be in abundance. Try and secure your tickets here. (Yankees-Red Sox Tickets)
Friday, May 13- The NBA Playoffs roll on. Grab a seat at a local pub at 9pm for Game 6 of the Western Conference Semifinals as the Memphis Grizzlies take on the Oklahoma City Thunder (OKC leads 3-2) with the winner taking on the Dallas Mavericks in the Conference Finals.
Music & Entertainment
Friday, May 13- Movie release day. Quiet night tonight? Check out some releases coming out today- "Bridesmaids" (R). Is nobody else excited for this? Starring Kristen Wiig and Maya Rudolph, rumor has it that the film is pee your pants funny. Can't wait to check out the "Female version of The Hangover." Wear a diaper, just in case. Also, "Everything Must Go" (R) starring a more serious Will Ferrell as a boozer that has to sell his possessions. Very rarely are acclaimed films as good as advertised, but we look forward to both. Don't blame us if you hate both of them.
Friday, May 13- Sunday, May 15- Tonight and Tomorrow night, The Deftones take over the Best Buy Theater with support from the Dillinger Escape Plan. Both shows start at 8pm with a ticket price of just $30. Come out and support Chino and the screaming Deftones. Deftones not your speed? How about Sunday night at the Bowery Ballroom for CSS & Sleigh Bells, with support from Princeton. Tickets are just $23.45 with a 7:30 start time. Sorry kiddies, this one is 21 and over only. (Sleigh Bells Tickets)
Sunday, May 15- The Highline Ballroom hosts "A Concert for Japanese Tsunami Relief," with an outstanding lineup of performers, including The Roots' ?uestlove, and A Tribe Called Quest's Q-Tip, plus many more acts, with many more to be announced. Net proceeds from the evening will be donated to the Japan Relief and Recovery Fund spearheaded by Direct Relief. VIP tickets are sold out, but you can still secure some general admission access passes for what should be an outstanding night of music to benefit those who need our help. (Concert for Japanese Tsunami Relief)
Nightlife
Friday, May 13- Our friends at Midtown East's Irish Exit (Have you watched our promotional video for them yet??) are hosting a Lucky Charm Contest tonight as they look for a new staff member at the popular bar. With $4 Jameson, $5 Guinness, and $6 car bombs, you can leave your brogue at home and just come for the liquor. (Lucky Charm Contest)
Friday, May 13- Saturday, May 14- Get ready to club it up this weekend in NYC. Tonight, head over to Katra for "Chill Factor Fridays." 2 for 1 drinks from 10-12 with RSVP and bottles of Stoli and Absolut are just $235! Saturday night is the "Ladies Night Rose Giveaway" at Soiree. Bring a group of 8 or more girls with you and receive a free bottle of Rose before 1am. Also- 2 bottles of Grey Goose or Henry for just $500 before midnight. Blowouts optional.
Other
Saturday, May 14- Historic Stone Street hosts the StrEATfest on Saturday starting at noon and lasts all day, rain or shine. Proceeds go to Self Help Africa to construct wells to bring African people fresh water for the first time. The bars and restaurants of Stone Street highlight a day of music, outdoor drinking, and eating including Adrienne's Pizza, The Dubliner, Ulysses' and Mad Dog & Beans to name a few. Strap on your finest Wall Street suit and head downtown! (Str-EAT-fest)
- Jane Van Arsdale
Related Articles
Share
About Author
(0) Readers Comments