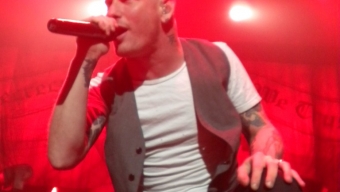 Avalanche Tour
Stone Sour, Theory of a Deadman, Skillet, Halestorm, Art of Dying
Hammerstein Ballroom, New York, NY
April 29, 2011

The first edition of the Avalanche Tour rolled into the Manhattan Center's Hammerstein Ballroom on Friday night, featuring some of the biggest names in modern rock today. Produced by Synergy Entertainment, Inc., the Avalanche tour masterminds are no strangers to organizing other highly successful hard rock focused tours, including the upcoming Rockstar Energy Drink Mayhem Festival (July 27th at the PNC Bank Arts Center). The five band bill included bands Stone Sour and Theory of a Deadman as the co-headliners, and rounded out with Halestorm, Canada's Art of Dying and Christian rock favorites, Skillet.
Concert Review: Art of Dying
Beginning promptly at 6pm, Art of Dying, in support of their newly released album "Vices and Virtues," hit a New York City stage for the first time. Their 6 song, 30 minute opening set was received with open arms by an audience that was not overly familiar with the band coming in. With song themes focusing on societal prejudices and uncertainties, set highlights included the stripped-down power ballad, "Best I Can," the in your face crowd pleaser "Get Through This," and current single and #13 song on the active rock charts, "Die Trying" ended their set on a high note. Lead vocalist, Johnny Hetherington has a knack for the spotlight, hitting each note with precision and relative ease in addition to lifting the crowd's energy level immensely from start to set's end. Since our last Art of Dying performance in May 2008, the Vancouver outfit has clearly polished their live show and are a modern rocks band on the rise for 2011 and beyond.
Concert Review: Halestorm
Next to hit the stage was Pennsylvania's Halestorm, led by enigmatic female vocalist Lzzy Hale. Touring the countryside for years with the likes of Buckcherry, Papa Roach and labelmates Shinedown, the quartet have become a mainstay on the touring circuit resulting from a relentless schedule and critically acclaimed live performances. This night was no different as Halestorm almost literally took the near capacity crowd by storm with a 40 minute energetic set. Highlights included two unreleased cuts called "American Boys" and set opener, "Love Bites (So Do I) in addition to a the mid-set drum solo performed by Lzzy's brother AreJay Hale, into the intro of Skid Row's "Slave to the Grind," which thoroughly impressed every member of the relatively young audience asking for more east coast rock and roll.
Fans of the Christian rock act Skillet might recall the band headlining their own show at the same Hammerstein Ballroom just a short time ago. As a part of the Avalanche lineup, Skillet was handed an 8 song, 45 minute support set, comprised of long time fan favorites like "Savior" and the fist pumping set finale, "Rebirthing." Led by bassist/lead vocalist John Cooper and wife/rhythm guitarist/vocalist Korey Cooper, Skillet is the only band that we can think of that tours with a full-time cellist and violist, both of which only add to the live Skillet experience. The Memphis based sextet is in the midst of finishing up their touring cycle on 2009's breakthrough album, "Awake," featuring smash singles "Monster" and "Hero." Fans were asked if this was their first time seeing Skillet live, with the majority responding the affirmative. It's safe to say given the crowd's response to the band's high profile stage show (which included four smoke machines and four large lighting structures), Skillet has successfully tapped into the current modern rock scene.
Concert Review: Theory of a Deadman
In the wake of the release of their fourth effort titled "The Truth Is…," British Columbia's Theory of a Deadman returned to a New York City venue for the first time since 2009. Quite a bit has changed between now and then as lead vocalist and guitarist, Tyler Connolly and company are now one of the most recognizable names in the genre. Producing an astonishing eight (Yes, eight!) successful singles off of 2007's breakthrough, "Scars and Souvenirs," TOAD is entering their prime both in the studio and on the road. On this night however, we were disappointed that "Theory" didn't bring their "A" game. Seeming like a band who were simply going through the motions in front of 3,000 strong, Connolly's humor seemed dry and almost too well-rehearsed. He spent an inordinate amount of time taking a picture of the general admission crowd with his blackberry, before receiving a fabricated text from Stone Sour frontman Corey Taylor, asking "how the crowd was tonight?" Stone Sour fans didn't seem amused. Instead of adding of an additional song to their 50 minute set, which included a run of the mill cover of Eric Clapton's "Cocaine," Theory of a Deadman would have been better served using their time working an additional song into the set from one of their first two releases. In fact, only "Hating Hollywood," was represented from the band's early years.
Concert Review: Stone Sour
Fortunately, a five-hour marathon evening full of crunching guitar riffs and legions of fist pumping post grunge rock fanatics was capped off by one of the hottest acts in all of rock. Riding the success of 2010's "Audio Secrecy," Stone Sour is fronted by one of the most recognizable names in the nu metal genre, Corey Taylor. The dual-hatted Slipknot frontman brought his highly acclaimed and respected side project to New York City for the first time and did not disappoint. In fact, we couldn't believe that a man who has spent the better part of his professional days screaming behind a mask would transition into an engaging, appreciative, and down to earth frontman without the stage props. A stripped down and comfortable Taylor simply owned the stage, his stage presence unmatched by anyone else who graced the stage earlier in the evening. Taylor is a well-oiled machine live, coupled with a vocal range that compares favorably to any frontman in hard rock. Setlist staples "Mission Statement" and "30/30-150" bookended each other during the band's riveting 65-minute performance. The evening was deemed complete with Taylor and his guitar performing a profound version of "Bother" before being joined by the rest of Stone Sour with pulverizing versions of "Through Glass" and "Get Inside." Fans were treated to a confetti party with Corey Taylor and company to end the first annual Avalanche Tour on the ultimate high note.
-  Buzz Francis
Related Articles
Share
About Author
(0) Readers Comments