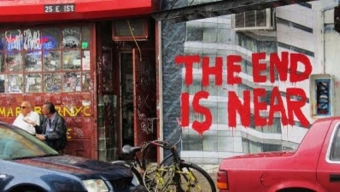 Looking for last minute, off-the-cuff weekend plans? It's not too late to figure it all out. Here are a few highlights to check out in and around Manhattan this weekend!
Arts & Culture
EscapeMaker.com's Getaways, Local Food & Travel Expo Saturday, April 30th 11am-5pm
Attend EscapeMaker.com's first of its kind Green Getaways, Local Food & Travel Expo – a carbon free event at Brooklyn's Skylight One Hanson (pics above) on Saturday, April 30th! The event will house 60+ Exhibitors! Sample local wines, cheese, fudge, chocolate, jam, apple juice, and other regional farm-fresh regional foods in the bank vault downstairs and find out about sustainable getaways and agri-tourism day trips within a few hours of NYC.  The LocalBozo crew will be there covering the event, so please come over and say hi.
Sports
New York Yankees Vs. Toronto Blue Jays at Yankees Stadium
Sunday, May 1st 1:05pm
Head over to Yankees Stadium, on the first day of May to see the Bronx Bombers take on the Toronto Blue Jays.  Tickets are still available and range from: $5-325. The new stadium provides great views of the game from literally any seat in the house. The food selection has also improved, and is somewhat reasonably priced. You can grab a tasty cheesesteak from the NY staple, Carl's, and burritos from Moe's. You still need to get a second mortgage to buy beer.
Music & Entertainment
The Kills At Terminal 5 with special guest Cold Cave  (SOLD OUT)
Tonight!
Doors 8pm/Show 9pm
Terminal 5 is one of our favorite NYC music venues. The space is huge and the sound is pitch perfect. Tonight, indie darling's,The Kills are playing a sold out show at this venue. The Kills have become regulars on the NYC band scene. If you have tickets or if you're able to scalp for the show we urge you to check out, Cold Cave the opening act. This Goth/Pop/Electronic group, has a style reminiscent of 80s favorites like; Depeche Mode, and Sister's Of Mercy. See this band before they blow up. If their performance at this years Coachella tell's us anything, it is that they will be huge.
ASSSSCAT 3000
Upright Citizens Brigade Theatre
Sunday, May 1st
The Upright Citizens Brigade performs longform improv with possible special guests from Saturday Night Live, 30 Rock & The Colbert Report.The 7:30pm show costs $10 and tickets are only available via pre-sale below. The 9:30pm show is FREE but reservations are not accepted. Free tickets for the 9:30pm show are distributed at 8:15pm outside the theatre on the night of the show.
Nightlife
25 E 1st St
(between Extra Pl & 2nd St) 
New York, NY 10003
Legendary East Village dive bar, Mars Bar may be on its way out to make room for high priced Condo's.
Do yourself a favor and check out one of the last true punk bars in this ever changing neighborhood, before it meets it's demise. The beer is cheap, and the crowd is filled with fun party loving drunks.  Just don't try to order a Martini, you may get punched in the neck.
Other
EIF Revlon Run/Walk For Woman New York 2011
The 14th Annual EIF Revlon Run/Walk For Woman is this Saturday, April 30th. This is your chance to be a part of something big. exciting, fun, and really important. Help EIF (Entertainment Industry Foundation) get to the finish line of a world free of women's cancers in our lifetimes! Everyone knows someone whose life has been touched. NBC's Late Night host, Jimmy Fallon announced that he will be in attendance, so that's a cherry on top of an excellent cause. Register here
-Alan Smithee
Related Articles
Share
About Author
(0) Readers Comments