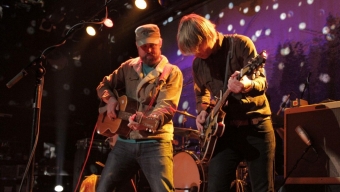 An Evening with Cake
Music Hall of Williamsburg, Brooklyn, NY
April 19, 2011
Tuesday night's Cake performance at the Music Hall of Williamsburg marked the first of two completely sold out area performances by the Sacramento, California five-piece band, touring in support of the release of their 2011 album "Showroom of Compassion," their first full-length studio album in roughly five years. The concert marked the band's first ever appearance inside the Williamsburg venue as well as LocalBozo.com's first taste of a Cake live performance. And with a room jam-packed with starving Cake fans, they may have added another to their loyal army of followers.
Doors opened promptly at 8pm, with a cavalcade of concertgoers lined up well in advance; the light, spritzing rain only a small obstacle in the way of an evening destined to be fun. Admirably, the band was forgoing an opening act on this leg of the "An Evening with Cake" tour, giving fans the opportunity to focus on the headliners at hand. Just before the lights dimmed for the 9pm start time, a booming announcer's voice rang out over the public address system demanding that cell phones be turned off and stipulating that no pictures were to be taken- a bit unusual for a concert, or so I thought. As the show progressed however, I watched as security guards stood on lookout for camera flashes and cell phones- some even barreling through the crowd to turn off said devices. The crowd, understanding the rules- didn't seem to mind. Besides, they were too focused on the music to care about rules.
If you haven't heard Cake before, their sound is difficult to qualify. Their newest effort is a return to indie roots for a band that reached their highest levels of commercial success in the late 1990's as songs like "The Distance" and a cover of Gloria Gaynor's "I Will Survive" became mainstays of mainstream. Their live sound fills the air with bluesy grooves, rather than headbanging rock, as if their music was written as a soundtrack for you to strut. A similar swagger envelopes the audience during the live performance, evoking them to dance rather than rock out.
Donning a brown hunting jacket and green cap, bearded lead singer John McCrea led his bandmates onstage to a chorus of applause, as the hipster Brooklyn crowd awaited the chords to the band's opener "Sad Songs and Waltzes," a Willie Nelson cover. Proclaimed McCrea,"We understand that you have your choice of music, bands, entertainment, shopping, and sporting events. And we appreciate you spending the night with us." Aesthetically, a disco ball turned on and off throughout the show, strategically shining a rainfall of illumination over both band and crowd, who did their part to sing along in unison from song to song. Although the band does not utilize a setlist, the just over two hour set was broken down meticulously between a bevy of songs from the new album, before a brief intermission and a subsequent resumption into some crowd-pleasing favorites.
Highlights of the live show included the upbeat "Mustache Man," which had a bluesy, almost psychedelic rock tinge to it, the lights being turned out as McCrea explained "everybody has a dark side!" during "Satan is My Motor," the boisterous crowd chanting "sheep go to heaven, goats go to hell" repeatedly during (you guessed it) "Sheep Go to Heaven," and finally an outstanding version of "Shadow Stabbing," with the crowd filling in capably on guest vocals. The band took a final pause before coming returning for an encore featuring hits "I Will Survive," "Short Skirt/Long Jacket," and "The Distance," sending everyone home smiling.
For our first real exposure to Cake, we have a hard time being critical of what was in essence a terrific live show. The Music Hall of Williamsburg was completely sold out and packed with lively fans, who showed up anxious and went home fulfilled. The band was clearly having a blast on stage- from guitarist (and recent LocalBozo.com interviewee) Xan McCurdy's head bobbing riffs to the masterful trumpet (yes, trumpet!) and keys handled by Vince DiFiore. As the crowd relentlessly shouted out song titles, even McCrea himself quipped "We're gonna play whatever we feel like. Tonight is An Evening With Cake. We'll play as long or as little as we feel like it," before smiling at the crowd, who ate up every second of the association of sounds.
Cake- Live at the Music Hall of Williamsburg, Brooklyn, NY
April 19th, 2011
Setlist (Courtesy of Setlist.fm)
1. Sad Songs and Waltzes
2. Opera Singer
3. Arco Arena
4. Frank Sinatra
5. Rock and Roll Lifestyle
6. Wheels
7. Mustache Man
8. Long Time
9. Satan is My Motor
10. Bound Away
11. Shadow Stabbing
12. Federal Funding
13. Mexico
14. Love You Madly
15. Ruby Sees All
16. Sheep Go to Heaven
17. Comanche
18. Never There
19. Sick of You
20. I Will Survive
21. Short Skirt/Long Jacket
22. The Distance

- Jane Van Arsdale
Related Articles
Share
About Author
(0) Readers Comments