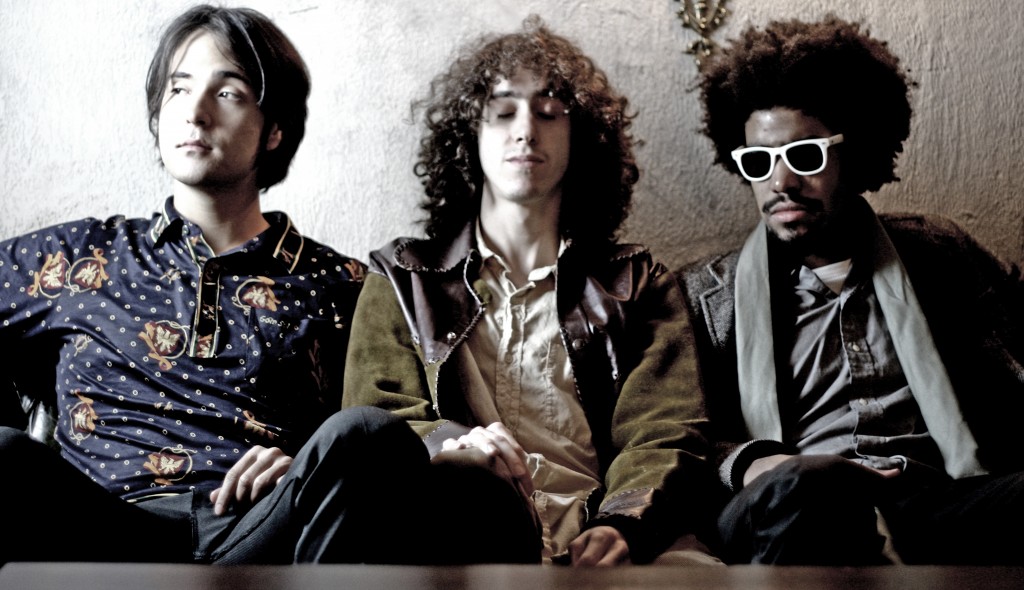 Williamsburg's Brooklyn Bowl is a pitch perfect venue in a great neighborhood. I would even go as far to call it a 'Chuck E. Cheese' for adults. On any given night you can head over and bowl with some friends. It's a great way to relive your childhood growing up in the suburbs. While you're rolling, you can also enjoy a great meal. No, this bowling alley does not come with the treadmill hot dogs or the neon nachos. Brooklyn Bowl features a full menu from one of New York's hottest restaurants, Blue Ribbon.
Bowl has seen some amazing acts come through its doors even though they have only been open for a little over two years. In the short time they have been open even the likes of Kanye West and ?uestlove have graced their stage. Their concert calender is stacked week after week with great local and national acts yet some acts are finding Brooklyn Bowl a place they can call home, with what's called their Residency concert series. During a Residency, a band or a solo act will perform concerts at the venue, each week for a chosen amount of time. This is great for a mid level band, so they can get the word out about themselves.
One such band is, The London Souls from right here in New York City. They will be playing a Residency every Monday, all March long. The London Souls were described as classic rock revivalists, and have been compared to The Black Crowes on several occasions. The 60s and the 70s produced some amazing brands with legendary songs. So, I truly respect any band who revisits this time period, but also makes the music there own.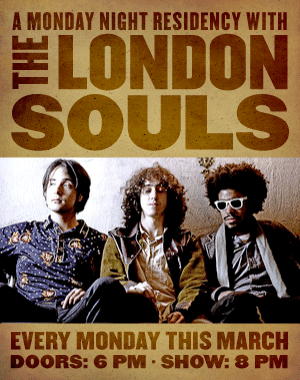 The London Souls, as the headliners of the night, would take the stage later in the night which gave us some time to grab some great beer on tap, either from Kelso or Brooklyn Brewery. What's great about the Bowl is that they are devoted to only serving products from local businesses. It also doesn't hurt that these local breweries produce some excellent suds, at a great price. After we grabbed drinks we headed down to the stage to see the opening at, Zongo Junction. The 13-piece afrobeat ensemble blends West African rhythms with funk, jazz and soul. This band is huge, and their instrumentation is masterful. Their sound arsenal is packed with congas, sax, bass, guitar, and keys just to name a few. Needless to say they were a perfect opener for The London Soul, leading the audience to dance hard to the afrobeat grooves.
At 11pm The London Souls took the stage. This NY three piece kicked into gear right away. With the first lick played, the crowd grew. People who were bowling, dropped the balls and came over to watch this band, who I can honestly tell you I am a new fan of. These guys are so tight and are just flat out fun to watch. The Souls embody classic rock and make it theirs in a bold way. Singer/Guitarist Tash Neal made my face melt with his killer licks on songs like, 'The Sound', 'Stand Up', and 'She's out of control'. I know this may sound cliché but this guy seems to be channeling the spirit of Jimi Hendrix. From the way he plays his axe, to the way he twists and jerks his face its like I was seeing the icon on stage.
The whole London Souls band has what it takes to make a name for themselves to a wider audience. Each song on the set was killer and there was absolutely no filler. The large Monday crowd made the band feel right at home, cheering for every sweet lick. Please take our advice and see this band at one of their final Monday Residencies over at Brooklyn Bowl. Tickets are five dollars, and the show usually starts around 8pm. You will be adding their songs to your iPod right after the show, and grooving to it on the subway. The 60s and the 70s may be over and many of the rockers from that time have passed on, but the men of The London Souls are reinventing this amazing music, and making it new again.
- Alan Smithee
Related Articles
Share
About Author
(0) Readers Comments