It takes a special kind of performer to be able to captivate an entire audience during an hour long performance by his or her lonesome. On Monday night at the People's Improv Theater, equipped with just a chair and three props, Actor/Writer/Comedian Robert King, took centerstage to perform his one man stage show, Halfrican-American. The PIT is known for its independent, creative performances and this evening's funny, serious, and altogether poignant performance was no different.
King, the performer, has been on the independent theater scene for nearly a decade, and his primary background has been comedic in nature, making this foray into such a private topic so intriguing. The performance is a dramatic, introspective glimpse as a child struggles to deal with a bi-racial adolescence and how the perception of his race is handled by other races, religions, and genders as he matures.
The audience is taken on a journey from King's unique upbringing, all the way through his high school years. As Robert takes us through these time periods he introduces us to people who either helped him or put road blocks up in front of him as a mix raced youth. Refreshingly and perhaps shockingly, King in no way tries to censor himself in regards to the people who made life difficult for him so many years ago. We could see him both emoting and verbally displaying his displeasure with these individuals by cussing them out on stage. In fact, the audience is actually a secondary character in his performance, acting as a respite for King to work out these issues from the stage, which must be both relieving and cathartic on some level to do sp.
King uses a handful of props sparingly, which manage to help convey a very broad point. From a tiny backpack to a high school varsity jacket, King was meticulous to bring only necessary objects with him on stage. The props however only served to compliment the man on stage opening up his intimate experiences and sharing them with his audience.
The show is often times incredibly reflective and intimate, but King's comfort in his own skin affords him the opportunity to break up the seriousness of his struggle with self-deprecating humor of his awkwardness- unsure of where he fits in, torn between groups of friends, making lasting impressions- things we can all relate to. Although King's upbringing may have been different, his charm manages to identify some of the relatable qualities that we all have inside of us. And his sense of humor and his energy on stage help us laugh at even the most sensitive subject matter. King's unabashed ability to revel in his embarrassment showed us just what a fearless performer he truly is, and what an asset he is to the underground performance community.
- Alan Smithee and Jane Van Arsdale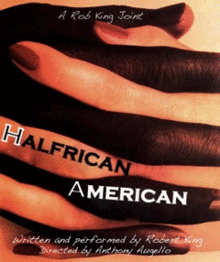 Related Articles
Share
About Author
(1) Reader Comment