Daughtry
A Musicians On Call Benefit Concert
Hard Rock Cafe – New York, NY
February 16, 2011
While the evening featured a rarified area performance by popular modern rock artists Daughtry, the purpose was to raise awareness for and contribute financially toward an organization known as Musicians On Call (musiciansoncall.org). Founded in 1999, the nonprofit group seeks to bring "live and recorded music to the bedsides of patients in healthcare facilities," and since their inception, they've changed the lives of over 250,000 patients and families. By utilizing musicians as volunteers, the foundation believes that the power of music can enrich and improve the lives of those stricken by illness, and Wednesday night's show at the Hard Rock Café in Times Square was a measure taken to ensure that the funding for these programs continue in perpetuity.
Over the past year, participating artists have included Trace Adkins and Darius Rucker in Nashville and Lady Antebellum and Lifehouse right here in Manhattan. But on this cold February evening, the night belonged to American Idol alum Chris Daughtry and his band. In their first live performance in over three months, Daughtry, outfitted with only acoustic guitars rifled through a multitude of their hits, in the midst of some noticeable stumbles along the way. Said the enigmatic lead singer, "we haven't had band practice, so this is going to be a real interesting night for all of us," as their guitar tech twice had to adjust the singer's guitar onstage causing a few minor delays. But donning the stage in a black t shirt, gray scarf, and black fingerless gloves, the singer looked at complete ease, even while shaking off some noticeable rust while hitting some higher notes.
But Daughtry was at his best when allowed to shine on his own- his cover of Elton John's "Rocket Man" was downright awesome, seamlessly transitioning in and out of octaves, weaving a magical performance out of his incredible pipes. The band, playing for roughly a full hour, collectively saved their best for last, closing with their biggest single to date, "Home." Although the band is on hiatus due to the birth of the singer's twins, the band became more cohesive as the show progressed, showing complete comfort by the show's conclusion. The crowd on this night was probably atypical for normal Daughtry performances, skewing older as a byproduct of a benefit event of this caliber (tickets ranged from $120 for "Fans" and up to $25,000 for groups of "Rock Star" tickets). Nonetheless each time the singer would leave and subsequently return to the stage, he was met with the same hoots and hollers that he would receive from a group of enthusiastic teenagers.
The evening was hosted by Z100 morning man Elvis Duran, and featured raffles and auctions (one netting an even $6,000 for an autographed Daughtry guitar) utilized to help continue funding Musicians On Call- a group that understands the fact that music alone can bring substantial benefit to those who need it. And although they only served to bring attention to the cause, Daughtry made sure that every paying customer, would leave the Hard Rock Café smiling.
For more information on how Musicians On Call uses music to promote and compliment the healing process for patients and families and to see how you can help , check out musiciansoncall.org.
Daughtry- Live at the Hard Rock Cafe, New York, NY
February 16, 2011
Setlist
1. Feels Like Tonight
2. Ghost of Me
3. Over You
4. Life After You
5. September
6. Rocket Man (Elton John Cover)
7. No Surprise
8. It's Not Over
9. Home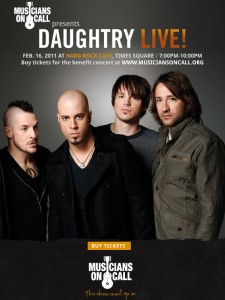 - Jane Van Arsdale
Related Articles
Share
About Author
(0) Readers Comments