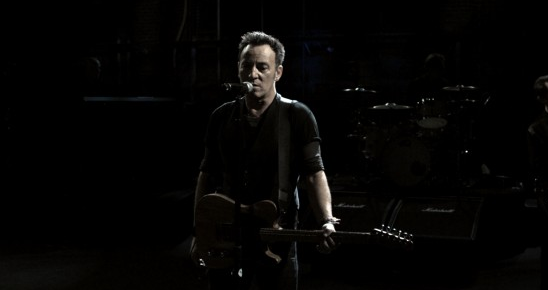 There has been a substantial buzz surrounding Bruce Springsteen followers as the release date of the much anticipated "The Promise: The Darkness on the Edge of Town Story" box set approaches, commemorating the 32nd anniversary of the classic 1978 album.  As a precursor to the release of the set, New York's Documentary Festival (DOC NYC) setup shop in the legendary Ziegfeld Theater in midtown to unveil the world premiere of this never before seen performance of Bruce Springsteen & the E Street Band- for one night only.
In December 2009, Springsteen and his legendary band filed the Paramount Theater in historic Asbury Park, New Jersey to play to a rare crowd: zero audience.  They would play to an empty house with the exception of a camera crew and director Thom Zimny. Although after witnessing the live set, with the level of intensity that the E Street Band brought, you would have thought otherwise.  To coincide with the release of the box set, the band played the "Darkness on the Edge of Town" album in its entirety in chronological order.
As a long time Springsteen fan, watching this footage reinforced a couple of things for me.  The first being that the "Darkness" record is a hauntingly painful and brilliant album and the fact that definitively, no other band performs at the level of the E Street Band.  Perhaps the enormous screen and blistering sound system in the Ziegfeld intensified this experience for me but coming from someone who has seen Springsteen live in upwards of 20 times, this was simply Bruce and the Band at their absolute best.
It's a rare occasion when you get to witness a band of such epic proportion stripped down to its bare essentials to perform what is arguably its grittiest album.  But watching the band in this type of setting allowed you to experience the performance from each band member's vantage point and get a feel for each member's contribution to the album.
To top off an already electrifying night of filmed live music, director Thom Zimny and E Street Band drummer "Mighty" Max Weinberg were on hand for an fascinating question & answer period.  Interestingly, even Weinberg himself, a part of the E Street Band for 36 years, admitted that he had never seen such footage of the band performing in a truly exposed fashion, allowing fans to see the sheer difficulty in putting on a show of that caliber and energy level.  Weinberg stressed that Springsteen and the E Street Band play with the same intensity whether they're rehearsing in Bruce's living room or playing in front of a sold out Giants Stadium and this sentiment certainly rang true with this performance.  When posed the closing question by a member of the audience, "when are you going to tour again?" Weinberg replied "you'll see us sooner than later." and the night couldn't have ended on a better note.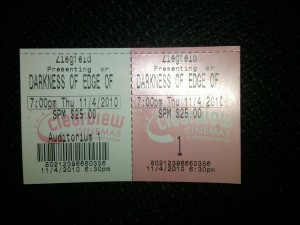 Bruce Springsteen & The E Street Band
Live at The Paramount Theater, Asbury Park, NJ- December 2010
Setlist
Badlands
Adam Raised a Cain
Something In the Night
Candy's Room
Racing in The Street
The Promised Land
Factory
Streets of Fire
Prove it All Night
Darkness on the Edge of Town
-Â  Eugene Jerome
Related Articles
Share
About Author
(1) Reader Comment