The Gaslight Anthem
Radio City Music Hall, Manhattan
September 30, 2010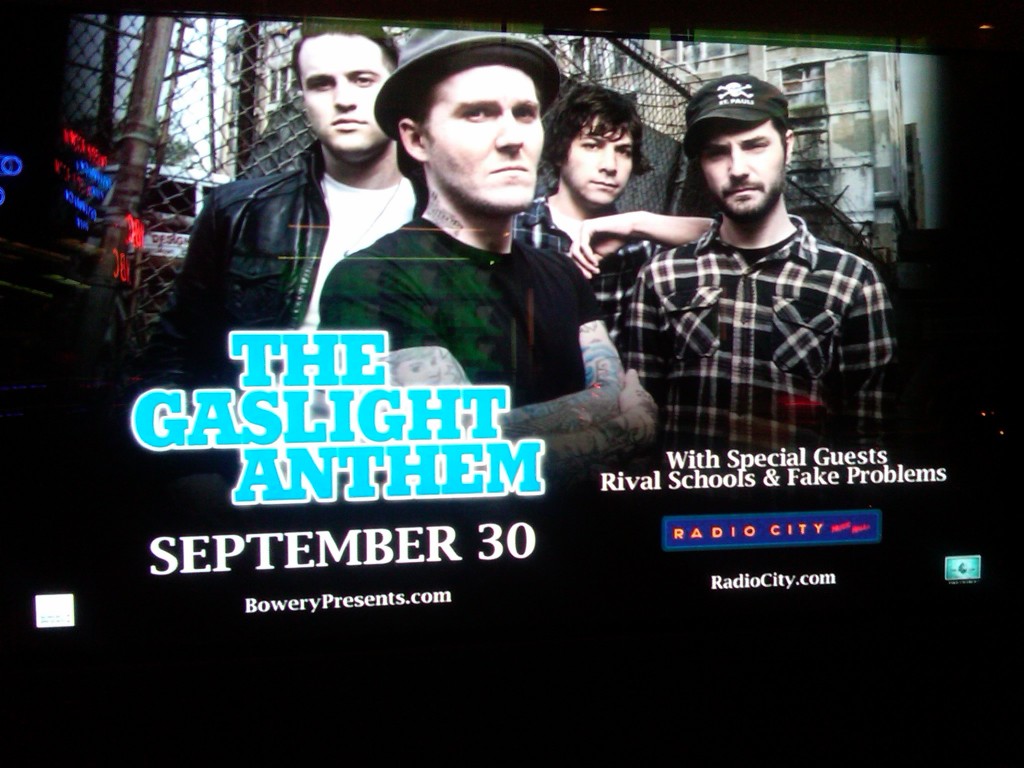 Appropriately, New Jersey's own "The Gaslight Anthem" seemed both humbled and awestruck by the sizable and raucous crowd that gathered inside the hallowed halls of Radio City Music Hall, on a rainy Manhattan Thursday evening.  After 100 minutes of solid music, the band basked in what can only be described as audience adoration as the loud ovation escorted the band into each other's arms amidst smiles and utter bewilderment as we watched a rising, young group of musicians have their dreams come true right in front of our very eyes.
Throughout the 24 song set, lead singer Brian Fallon, casually decked out in a plain white t shirt and brown fedora, looked out into the mass of people during their packed, but not-quite-sold-out performance, with both appreciation and disbelief as the band seamlessly transitioned between songs from their first three albums.  The venue, a big step up from their last jaunt through New York at Irving Plaza, holds roughly 6,000 capacity and was about 90% full.  But that didn't stop the New Brunswick quartet from delivering for their loyal fans.
What their New York area performance captured for me was a rising band with incredible potential, but also a band that has yet to reach it.  Perhaps this specific performance wasn't the one to knock the proverbial socks off of non-fans or even casual supporters.  Leaving this show, you didn't necessarily like the band any more than you did when you first went in, which is not necessarily a bad thing, since the performance showed a capable band that can satisfy their hungry following.  But in our haste to crown every band "The Next Big Thing," maybe what "The Gaslight Anthem" needs most is our collective patience- to let them develop into what they will inevitably become creatively instead of rushing to judge them and stifling their growth.
Clearly since 2008, the talented band has evolved.  From festival performances with Bruce Springsteen to magazine covers and international tours, "The Gaslight Anthem" is on the verge of a mainstream explosion.  And with punk and Motown influences, the band has a sound that can attract different poles of musical followers.  After all, with only a couple of albums under their belts, it's entirely plausible that "The Gaslight Anthem" has yet to hit their stride.  And while they certainly appear to be on their way, they just aren't there yet.  But with some solid management coupled with another album and some more touring under their belts, and there's no reason for this band not to take the next step, and their performance at Radio City Music Hall offered just a glimpse of what this band is truly capable of.
-  Jane Van Arsdale
The Gaslight Anthem- Live at Radio City Music Hall, New York, NY
September 30, 2010
Setlist
(Courtesy of Setlist.fm)
1. High Lonesome
2. Boxer
3. We Came to Dance
4. The Diamond Church Street Choir
5. Old White Lincoln
6. Even Cowgirls Get the Blues
7. Old Haunts
8. The '59 Sound
9. Bring It On
10. Miles Davis and the Cool
11. I'da Called You Woody, Joe
12. Angry Johnny and the Radio
13. Film Noir
14. The Spirit of Jazz
15. Blue Jeans & White T-Shirts
16. Great Expectations
17. We Did it When We Were Young
18. American Slang
19. The Patient Ferris Wheel
20. Say I Won't (Recognize)
21. The Queen of Lower Chelsea
22. Here's Lookin' At You, Kid
23. She Loves You
24. The Backseat
Related Articles
Share
About Author
(2) Readers Comments