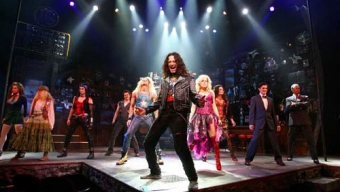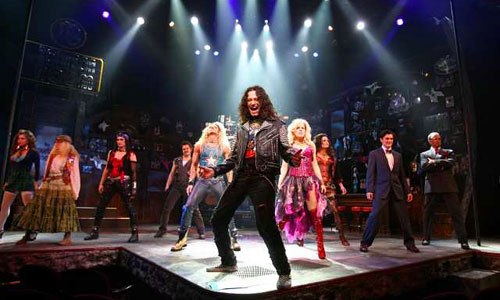 You already know all of the songs.  If you don't know them by name, you will surely recognize them by tune when you are sitting in your seat, bobbing your head, and singing aloud in an experience unlike any other on Broadway.  This isn't your typical lavish musical with elaborate dance numbers.  Rock of Ages is far different- a fun, interactive showcase that mixes the iconic glam music of the 1980's with a reflective look at Los Angeles' sunset strip as two young dreamers try to make a name for themselves there.  And even without former American Idol contestant Constantine Maroulis in the mix (he recently left the Broadway cast to join the Rock of Ages domestic tour), the show manages to be a worthwhile and captivating nightly event.
The songs of Journey, REO Speedwagon, Poison, Styx, Twisted Sister, Warrant, and Whitesnake among other celebrated anthems fill the Brooks Atkinson Theatre for a rocking two hour performance.  The backdrop is set in 1987 as fictitious club "The Bourbon Room" is about to be shut down and overtaken by a greedy German tycoon and to celebrate the club's history, larger than life rock act "Arsenal" is set to play their last show at the small venue before lead singer Stacee Jaxx embarks on a new solo career.  While the band and club are both in the midst of winding down, the show's two main characters, Drew (Joey Taranto) & Sherrie (Emily Padgett) are working day and night to get a shot at fame.  And while they meet by coincidence, they wind up needing each other out of circumstance.
The dialogue in the show is both biting and comical.  And the show is so well written that the transition of the songs intertwined between the back story is seamless, if not overly predictable.  But the inevitability of which song is coming next doesn't preclude the audience from singing along loudly- in fact, the cast members encourage it.  The show is entertaining enough for fans of classical Broadway shows, 1980's nostalgia enthusiasts, and even those who scoff at musicals.  And even though the theatre had some noticeably empty seats for a Friday evening performance, Rock of Ages is the most fun that we've had on Broadway.  If you can get down with a Pat Benetar jam and can remember the days of Tawny Kitaen gyrating on a car hood, you will absolutely love the show, which never takes itself too seriously.  LocalBozo implores you to buy tickets soon, before it's too late.  Especially, you know, if you Wanna Rock!
-  Jane Van Arsdale
Related Articles
Share
About Author
(1) Reader Comment